This post is by Bernie Carr, apartmentprepper.com
A couple of weeks ago, I posted about trying to dehydrate food for the very first time with my new dehydrator.
It turned out so well that I made a new goal to make beef jerky.
Why make your own jerky?
Making your own jerky is a great way to preserve meat if you have a surplus, or if you just want to make quick, healthy snacks. A lot of commercially prepared beef jerky are overly salted and have additives. This way you know exactly what you are eating. You can make it with various types of meats with your favorite seasonings. If you hike or camp, you will have the perfect lightweight, portable food, without having to pay high prices.
Here's what I did
Since this was my first time, I watched several YouTube videos, and followed the general instructions given by more experienced jerky makers.
1. For my first attempt, I purchased pre-marinated meat from Costco.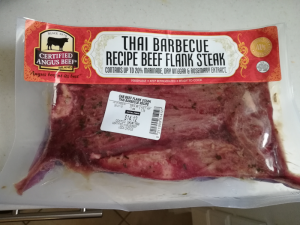 2. I then sliced the meat in 1/4 inch thick slices.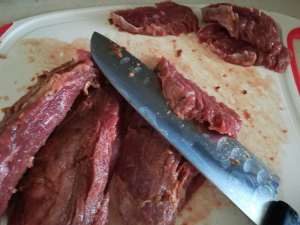 3. Before placing the meat in the dehydrator trays, I wiped the trays with vegetable oil.  I then placed the meat sliced on the dehydrator, making sure the slices did not touch each other.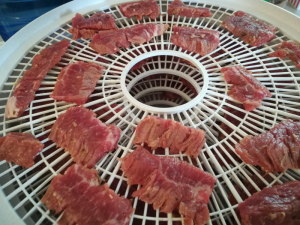 4. This time, I set the dehydrator on a small table in the garage.  I turned it on at 3 p.m. and checked it hourly.
5. The instructions I read mentioned wiping any grease your see forming on the meat, so I briefly turned off the dehydrator and lightly wiped any oils with a paper towel.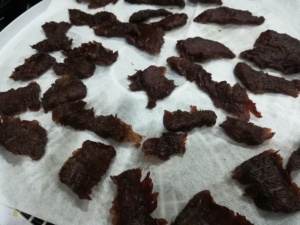 6. By 8 p.m., the beef jerky appeared to be done.  According to jerkyholic.com, you can tell the meat is done when it bends and cracks but does not break. Also, when you bend it or tear off a piece, you can see white fibers within the meat.
7. I then transferred the beef jerky on paper towels to soak up any oils and let them cool for about 10 minutes.
We tasted the finished beef jerky and the pieces were delicious. I packaged them in a plastic sealed container.  The next morning, I tried another piece and it was even a bit more dry and delicious.
Storing beef jerky
You can store it on the counter in a sealed container or even zip lock bags for about 3-4 weeks. I doubt mine will last that long; they will get eaten up before then. However if you prefer to store for a longer time, you can try dry canning or using a vacuum sealer.
I will definitely make beef jerky again!
© Apartment Prepper 2019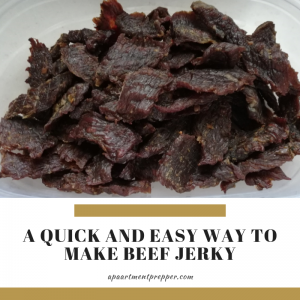 For more tips on prepping on small budget, read my book: