The following is Part 1 of Apartment Prepper's Interview with Joe Nobody
I have read Joe Nobody's books, Holding Your Ground and Holding Their Own and found both to be well written and full of information for any prepper.
Before we go any further, here is a quick background on Joe Nobody from the biography on Amazon:
I heard his recent interview with Jack Spirko's Survival Podcast and was going to write about my impressions when I decided to take a chance and ask Joe for an interview myself.  He kindly agreed and was very accommodating about answering several questions.
1. Since space is an issue with many apartment preppers, what are your thoughts about using a climate-controlled storage facility to store some of your preps such as guns, bulk foods etc?
A: In my first book, Holding Your Ground, I actually recommend this option for apartment dwellers. The trick, of course, is to find storage close by where you can safely go back and forth to access your stash. Depending on the type and duration of a collapse, this might be a challenge. I wouldn't worry about its being climate controlled. In a grid-down collapse, the AC will be off anyway. Plus, there is no need to be concerned about the climate if it is stocked with items that do not require temperature or humidity control. You may have to stay inside of your apartment for several days until the civil unrest dies down.
Some other ideas for a cache:
– A van or pickup (with a camper shell or locking cover) in the parking garage. If you think society is going down the slippery slope, go fill it up with goodies. A 4×4 pickup with a camper shell is, from my point-of-view, about the best bug out buggy there is. It won't attract attention, can holds a ton of preps (well, .75 ton) and is inexpensive/robust.
– An unoccupied unit in your complex. You should always know where these are if things look like they are getting out of control. If the grid is down, bands of starving people are roaming the city looking for places to loot, then the building manager is not likely to mind if you use an empty unit for storage.
– My old building in Chicago (I lived on the 44th floor) rented storage closets in the basement. That area would hold a lot of supplies. Not all buildings have this feature, but you might check with the complex manager on what they recommend for storage.
2. Acquiring a bug out location seems out of reach for many apartment dwellers who don't own any property — what steps did you take to get your bug out location?
A: In my first apartment, I had family within escape distance, and they would welcome me in – should SHTF. Later, I had to get creative, as I didn't have the financial means to properly prepare, and my job forced me to move often. Here are the things I looked for:
– Hunting leases often have cabins or old houses. While primitive, they would beat living in a tent.
– At one point in time, I purchased full camping gear and had it ready to go in a backpack. If society all went to hell, my plan was to drive/walk to a remote area with good water and few people. I knew enough to live off the land.
– Many people develop friendships or relationships with rural land owners close by. I know of one couple (in the metro Cleveland, Ohio area) who love to square dance and met local farmers through those events. Over time, they developed a close friendship and thus a bug out location was born. No matter what size city your apartment/condo is in, there are always nature programs, farmer's markets, bird watching societies – whatever. Establish a relationship with someone who has a good bug out spot and would welcome you if TEOTWAWKI occurs. One piece of advice – focus your limited resources on one specialty or type of supplies that allows you to ADD VALUE if you have to show up after a traumatic event. My value was always my experience with weapons and supply of ammo. Yours may be medical knowledge and medical supplies. Earn your keep if you are staying with someone else.
– Used campers are an option for a BOL. So are boats. These items are often inexpensive and many "pop up" models of campers can be towed with the average sedan. Pick a state park or other remote area with good resources if you have to get out of metropolis.
– Some years ago I found an RV rental facility not far from my apartment. I rented one for the weekend to "learn the ropes." My plan while living in that city was to run down and rent an RV to bug out in. If everything went to hell, I wasn't going to be worried about my credit card balance. I would advise everyone to execute a dry run. Driving one of these big machines takes some getting used to and the supplies you will need differ from the average camping trip. 
3. What were the biggest obstacles to getting a bug out location and how did you overcome them?
My mindset was always my biggest obstacle. It seems like I always spent my limited funds on something else (I just gotta have that big screen TV) and procrastinated on allocating funds or time towards a BOL. This is easy to do. Some news report (on that big screen TV) would come on and I would say to myself, "I should've saved that money for a pop-up camper to use in case this city goes nuts."
The biggest part of preparing is discipline. Fiscal, mental, light, noise, physical fitness, reading boring books on survival plants…you name it…those that survive post-SHTF will require strong discipline. It can be developed with some effort, and I have found my quality of life is better overall by having done so. The same mental discipline I use for preparing comes in handy for a lot of life's normal activities.
Editor's note:  Joe covered some great ideas for apartment preppers, and there is more to come.  Please feel free to voice your questions and comments below.  And don't forget to come back and read Part Two of the interview on my next post!
Click on the image below to visit Joe Nobody's website.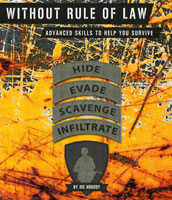 For more preparedness tips, read my book: