Today we continue with our interview with Joe Nobody, author of multiple survival books.  If you didn't catch the first part, please visit the previous post.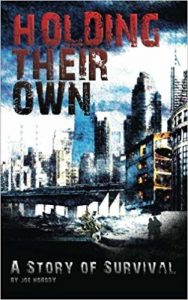 4. What are some key features that you look for in a bug out location?
 A: Here is what I look for in a BOL:
– Is there good water and the potential for non-linear food sources (fishing, hunting, gardening, fruit trees)?
– Does the location support hiding in plain sight? Stealth is always the best defense
– Can I defend the location if eventually discovered?
 People, in a long term collapse, will be the problem. Always keep this in mind when selecting a location. I don't like sounding heartless, or as if I dislike my fellow man, but unless you are worried about the dead rising from the ground, what else is going to threaten you? Packs of wild dogs?
5. Most city dwellers feel they have to remain within, or close to the city due to their jobs, kids' schools – how do you work around this?
 A: Let me be clear. I find the chances of collapse, SHTF or TEOTWAWKI very unlikely. The sky is not falling, and the United States Government will not disappear overnight. With that being said, my preps are always dual purpose. My bug out equipment is also camping equipment. Camping is fun for my family, so I get a dual usage from the time/investment.
If my job required me to live in the city, then I would live in the city and prepare as much as possible to bug out. I would pick some recreational activity that I felt added value to my life – something that my family and I enjoyed. Hunting, fishing (boats make an excellent bug out location in the right circumstances), bird watching, rock climbing…you get the idea. I would focus on what was good and fun and yet still helped with my preps. Probably 99% of the population loves some aspect of nature. Embrace that aspect, and use it to motivate you to prep. Just going camping for one weekend will teach you so much about preparing you won't believe it. 
 Don't let preparing run your life. Make preparing, and the peace of mind that comes with being prepared, a natural by-product of your life.
6. If you had the freedom to do it all over again, which state in the United States would you pick to have your bug out home and why?
A: To quote Davey Crocket, "You may all go to hell, and I will go to Texas." For me, Texas offers the best compromise of life, both pre-collapse and post-collapse. Since I find it unrealistic to plan for a bug out location that is far from my everyday home and work, Texas just fits.
Really, different folks prefer different areas based on what is important to them and how they want to live. Some people avoid states with strict firearms ownership laws. Another valid consideration is the average annual climate as northern environments might not provide year-round food gathering. A high population density is a negative variable as well. Some folks would prefer to "close ranks" with just their immediate family, while others prefer the security of a group of people sharing resources and skillsets at the same bug out location.
Personally, I would choose friends, family and local knowledge over some perceived prepper panacea thousands of miles away. 
7. In a large scale disaster, grid down situation, if you don't have a bug out location, is it better to stay put OR take your chances bugging out and finding a spot far from dense population?
A: This is a very difficult question as the circumstances of both the event and the skills/equipment of the individual come into play. Some people may become refugees, while staying put may result in becoming causalities. Each individual should make a plan based on that person's own capabilities and skills. JOB ONE: HAVE A PLAN
(Editor's note:  I asked for "just one" for the next two questions as apartment preppers tend to have limited space and may not be able to keep multiples)
8. For those readers of my blog who love weapons, if you were limited to one rifle and scope, which one would you pick and why?
A: This is a "loaded" question (pun intended). No matter what I answer, I'm sure to get hate mail over this one. Regardless – here goes:
Rifle – A Patriot Ordnance Factory 7.62 (.308) with a 16.5 inch barrel. I would mount it with an ELCAN Specter DR 6x optic in .308 reticle. Now, this weapon is not for everyone. I just described over $5,000 in equipment. But, you said "one rifle," and this would be it.
Why? Like everyone else, I study forums, reviews and blogs before I purchase weapons. But the ultimate evaluation comes from my own personal experience. I have several POF rifles and have found them to be the most reliable, longest-lasting AR15/AR10 long guns made. There is little compromise between accuracy, reliability, and combat power, and that is VERY rare in the world of weapons. Both my son and I have this exact model, and both are sub-MOA weapons that NEVER fail with quality ammo. What more can you ask for?
As far as the ELCAN goes, I first saw these being used by the Canadians in Afghanistan. (A salute of respect to our northern cousins – you fight well) I like the ELCAN over an ACOG or other holographic optics because:
–         I can change it from long-range scope to close quarter optic in less than a second.
–         The ELCAN gathers light slightly better than an ACOG, so it works better at long range when using night vision or at dusk/dawn.
While the Aimpoint T1 is king of the hill concerning battery life, the ELCAN's aren't bad either. The ACOG, of course, doesn't require any batteries but the light strip eventually will wear out. While I have several ACOG optics on various rifles, again, you limited my choice to a single piece.
9. If you had to choose just one pistol, what would you choose and why?
I would go with a Glock 23 (Gen 3). Now, before a riot breaks out over this pick, let me say I don't even own a Glock. I only carry 1911 model pistols for fighting. So why would I switch if I could only choose one handgun? The Glock's reputation for ease of use and reliability are well-earned. If I had family members who might have to use the weapon, I want something that is simple, safe, holds a ton of rounds and has reasonable fire power. I would probably go with a 9mm due to commonality of ammo. While I would never carry a 9mm onto a battlefield (I'm a .45 bigot), we are talking survival and preparing here, and this would be my choice. 
Thank you for giving me the opportunity to let your readers get know Joe Nobody a little better. If the ideas above help a single person with their preps, then we have all had a good day.
A big Thank You to Joe Nobody for your willingness to answer a bunch of questions! 
Click on the image below to visit Joe Nobody's website.