This post is by Bernie Carr, apartmentprepper.com
I'd love it if you can help support Apartment Prepper on Patreon to help keep this site free. But it's all up to you, I'll still post articles as normal whether you do or not 🙂
I got an invitation to try out the Apocabox and I gladly accepted. I was excited to receive the June package with the theme of "Get outside!" which is right up my alley.
What is the Apocabox?
It's a bi-monthly premium subscription service for outdoor, preparedness and survival enthusiasts. Much like a monthly service like a "wine of the month" or "shaving" subscription services, you get a box of survival themed goodies every other month for as long as you're signed up.
Each month has a theme, and the items are hand-picked by Creek Stewart, professional survival instructor, author and host of the Weather Channel's SOS How to Survive. You may have seen his previous show, Fat Guys in the Woods. He is the founder and owner or Willow Haven Outdoor Survival Training School in Indiana.
When you sign up to try it, there is no contract, so you can cancel at any time.
Items Included
As I open the box I see there are several items packed with shredded magazine paper to cushion them- I liked that they used shredded pages – environmentally friendly packaging.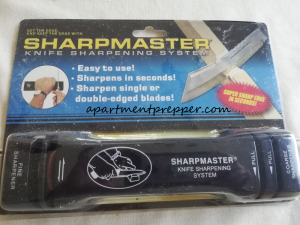 Sharpmaster Knife Sharpening System
Using a dull knife can be dangerous, so you must keep your knives sharpened prior to using. The Sharpmaster Knife Sharpening system will come in handy for anyone who carries a personal knife or two. 🙂
Tiny Survival Guide

The Tiny Survival Guide is the size of a business card but it unfolds and is full of useful information about preparedness and survival. It also includes a wallet fire-starting lens.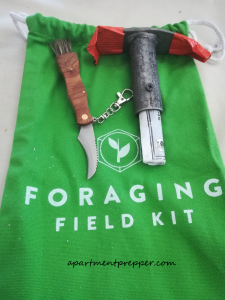 Foraging field kit bag
The foraging field kit bag is sturdy cotton canvas bag with a drawstring, with plenty of room for your foraging finds.
Mushroom Knife with Brush
I've never used a mushroom knife before, but I can see how you'd want one when you go out foraging. It has a small curved stainless steel blade with a brush attachment for wiping dirt of your foraged mushrooms.
Strawberry Hoe
The Strawberry Hoe was hand-forged and created exclusively for Apocabox members. I know I can use it for my balcony garden.
Raethco Ferro Strike fire starter and exclusive access to fire starting course
Firestarting is one skill I'd like to master myself so I am very interested in trying out the Raethco Ferro Strike fire starter.  Access to the firestarting course will ensure you know what to do as it does take practice and skill.
InstaFire packs
I've brought these InstaFire fire-starting packs while camping and I can vouch that they work very well. I am glad I got extra because I really like this product.
Natrapel Insect Repellent wipes
You can never be too careful out in the wild as ticks are some of the nastiest disease carrying bugs around. Natrapel Insect Repellent wipes are compact and contain Picaridin which has been clinically proven to be more effective than DEET alternatives. One wipe can protect up to 12 hours.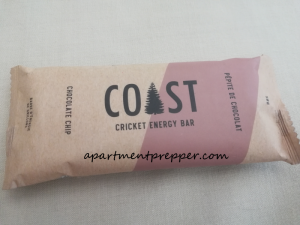 Coast Cricket Energy Bar
I have never had cricket before, so this is very interesting. Cricket protein is known for quality and sustainability. This particular bar is high in vitamin B12, magnesium, iron and contains 12 grams of protein per bar.
Overall Impression
I have to say receiving an Apocabox and opening it was a lot of fun and felt like Christmas! I thought the contents were well chosen and there is a quality feel to the collection. Whether the recipient is a beginner or a seasoned outdoors person, I am sure they can find good uses for the items. I think the Apocabox would also be a great gift for someone who has interest in survival, preparedness or outdoor life. A subscription is $50 + $10.95 (shipping) every 2 months.
Check out the Apocabox and subscribe at: https://www.myapocabox.com/
Here's a link to the unboxing video: https://youtu.be/CGqVizx0byM
Now for the giveaway…
We have not done a giveaway in quiet a while, and I am excited the folks at Apocabox offered this giveaway.
One lucky winner will be chosen to receive an Apocabox.
The giveaway starts today 7/1/2019, and ends at midnight 7/8/2019.   Winner will be contacted via email, and must respond within 48 hours of the email notice.  You have lots of chances to win.
Please help support Apartment Prepper on Patreon to help keep this site free. Click here: https://www.patreon.com/apartmentprepper