Written by Bernie Carr
More and more people are becoming interested in living a prepared life whether they live in a rural area, the city or suburban environment. Today I'd like to share my thoughts on a new book by Jim Cobb, The Urban Prepper's Guide.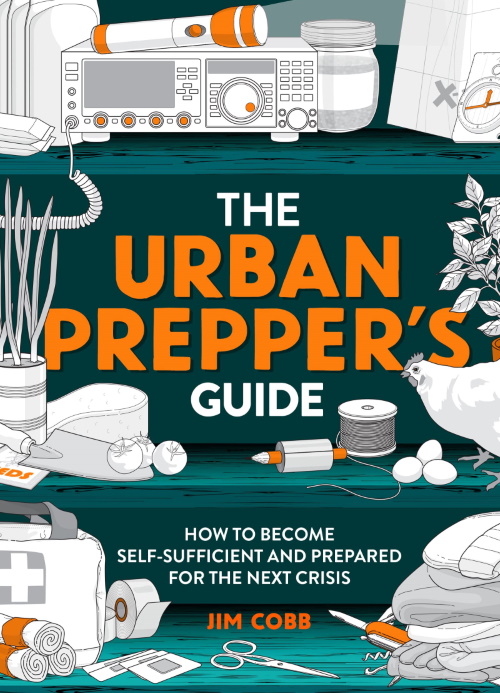 The author
Jim Cobb is the author of several preparedness books, such as Prepper's Long Term Survival Guide, Prepper's Home Defense and many others. He is also the Editor in Chief for both Prepper Survival Guide and Backwoods Survival Guide magazines. In short, Jim knows what he is talking about.
What's covered in the book?
The book includes what you need to have to get prepared for emergencies: water, food, shelter, medicine/hygiene, security, safety, and more. There's even a section on the history of prepping, which I found very informative and interesting. Jim also covered practical tips on finances, estate planning, areas that are often left out of preparedness discussions. You can find illustrations and fast advice you can use right away.
For clarity, the subtitle mentions "become self-sufficient" which can cause some readers to expect lessons on self-sufficiency such as growing food, raising animals, fishing, etc. That's not what this book is about- it's more about being able to fend for yourself and prepare for a crisis or disaster in an urban setting. There are sections on growing food in small spaces, food preservation, setting up a rain cachement – enough to get you started.
Impressions
When I received my review copy, I was impressed with the look and feel of the book. It has a nice thick cover, and glossy pages. It also has full color photos, and color coded page chapters, making it easy to navigate the book and re-read chapters.
I also enjoyed reading the sections on some of the prepping myths that keep making the rounds in social media, some of which I've written about as well, such as whether one should use crayons as candles.
Jim avoids the doom and gloom declarations that tends to scare people, and instead offers common sense, actionable advice that anyone can relate to. Choosing gear can be confusing so I think it's helpful that he also recommends specific products that he has tried.
If you are just getting started in your preparedness journey, you will not be disappointed. You'll find a wealth of information in the book to help you get on the path to preparedness. If you have some experience preparing for disasters, you will find a lot of relatable sections. I believe it was the section on knives that got me thinking, "Oh wow, someone else carries more than one knife." (I guess I'm not alone in my thinking!) This book will get your mind at ease that you are on the right track, and perhaps fill in some gaps.
In conclusion
The Urban Prepper's Guide has just been released and is available in Amazon and other booksellers. Whether you are prepping in the city or suburban area you will find some useful tips in this book. As the last couple of years have taught us, everyone needs to be prepared in this day and age. I highly recommend you get this book, and while you're at it, order a few to give out to your friends and family.
---
We are an affiliate of Amazon.com, which means we received a small commission if you click through one of our Amazon links when you shop, at totally no cost to you. This helps keep the lights on at the blog. Thanks!
---
About the author
Bernie Carr is the founder of Apartment Prepper. She has written several books including the best-selling Prepper's Pocket Guide, Jake and Miller's Big Adventure, The Penny-Pinching Prepper and How to Prepare for Most Emergencies on a $50 a Month Budget. Bernie's latest e-book, FRUGAL DIY has just been released on Amazon. Her work appears in sites such as the Allstate Blog and Clark.com, as well as print magazines such as Backwoods Survival Guide and Prepper Survival Guide. She has been featured in national publications such as Fox Business and Popular Mechanics. Learn more about Bernie here.
FB: https://www.facebook.com/apartmentprepper
Instagram: https://www.instagram.com/apartmentpreppers/
Twitter: https://twitter.com/AptPrepper
YouTube: https://www.youtube.com/channel/UC7vOtdbo-wiBeBxD6puCr1Q
Pinterest: https://www.pinterest.com/aptprepper/