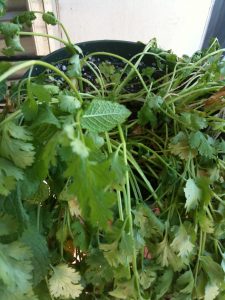 This post is by Bernie Carr, apartmentprepper.com
It's not even summer yet and the balcony garden is showing signs of difficulty.  The above photo shows the cilantro after a day of 95 degree heat.
I will need to start watering twice daily instead of once to see if I can save this one.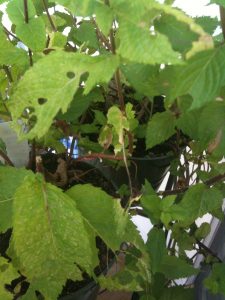 The mint leaves which were lush and healthy just a few days ago seem to have gotten attacked by some kind of pest that is eating the leaves.
I have taken off a few cuttings of healthy and hardy stems and replanted them in a separate pot.  Hopefully they will take root.
A hive of wasps have invaded a corner of the roof over the balcony.   These wasps are very aggressive and we've already had a run-in with them.
I'll buy a wasp spray with a nozzle that that can reach all the way up and eradicate the wasp nest.
My parsley seedlings that were thriving for a few days have dried up and died.
If at first you don't succeed…   Keeping a balcony garden has a few challenges but I am not giving up.
© Apartment Prepper 2012
Get the real deal. Whether bugging out or sheltering in place, you can never have enough clean water for survival: For your water purifier needs, please visit: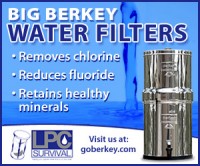 For more preparedness tips, read my book: