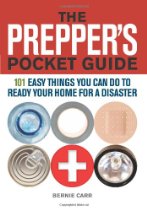 Just when the news seemed to be settling down from the recent stock market roller coaster, the ground started rolling in a couple of areas that hardly ever experience earthquakes:  Colorado had a 5.3 magnitude quake on Monday night, then soon after, on Tuesday morning, the East Coast had a 5.9 quake centered around Virginia.  DC Josh of Metro Survival blog experienced the quake and posted about it.  See "Washington D.C. Earthquake"
Adding to the worries was the epicenter of the Virginia quake was close to a nuclear power plant which was shut down as a precaution.  Fortunately no release of nuclear material occurred due to the quake.
In weather news, Hurricane Irene is strengthening and may land in Florida or South Carolina, possibly as a category 3 hurricane.  We will keep our fingers crossed it weakens before reaching land.
This just proves to me once again that these days we all need to be ready for anything.  Just because something has never happened before does not mean it never will.  There is always a chance a disaster will come "out of nowhere"  Let's not be caught unawares.
Whether you are preparing for hurricanes, financial disaster, earthquakes, ice storms etc. the finer details may be different but there are common denominators of preparedness:  water, food, fuel, shelter, safety, communication.  Consider things you use and would need in the event you are unable to leave your house or office:  food, water, First Aid.  Have a plan for you and your family to get home if the disaster occurred elsewhere.  You will also need a way to get in touch with family or friends.
It is fortunate the earthquake did minimal damage and very few injuries.  I just hope more people realize the need to be ready for anything and become more prepared.
For easy ways to become more prepared, read my book: