I found a new and relaxing hobby!
Several months ago I posted about "Items I Carry Daily" which included a photo of my paracord bracelet that Mr. Apt. Prepper gave me as a stocking stuffer.
Paracord is very useful to have around- you can use it as replacement shoelaces, to secure items to your car or backpack; anything you that rope is used for.  Wearing a paracord bracelet is a handy way to carry it.  If you ever need it, just unravel the bracelet, and it should extend to around six feet or more, depending on the size of the bracelet.
I'm excited that I learned how to make my own paracord bracelet!  Here is a picture of one getting started: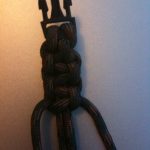 Here is the when it is almost completed: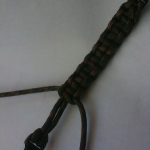 After a couple of days, the finished bracelet: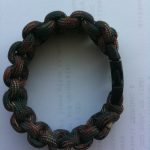 There are several websites that post instructions.  You can make it with or without the buckle.
Here are a couple of sites that provide instructions:
http://www.instructables.com/id/Paracord-bracelet-with-a-side-release-buckle/
http://www.tacticalintelligence.net/blog/how-to-make-a-paracord-bracelet.htm

They are not only fun to make, but they will make good gifts for both preppers and non preppers alike.
For easy ways to become more prepared, read my book: