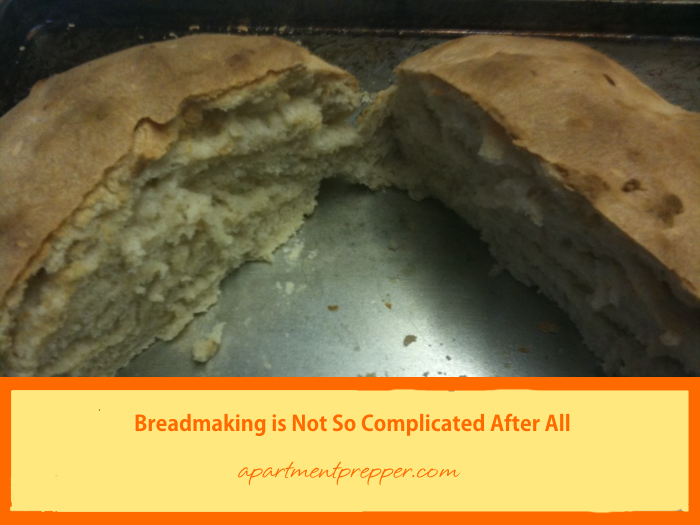 This post is by Bernie Carr, apartmentprepper.com
It took me a while but I finally got around to trying my hand at baking bread from scratch. It's been a goal of mine (See Small Steps to Learning Survival Skills) for a while now, but I was a bit intimidated about trying it at first. I've had a few failures in the past; I even owned a bread machine at one time. Due to one of the failures, my dough overflowed into the bread machine unit and got burned. The bread machine was "toast" (pun intended) and it left quite a powerful smell that lasted for days. Since I became interested in preparedness, I really wanted to make my own bread in case we can no longer run to the store for a loaf.
I've experimented with a few other recipes in the past, but none of them are easier than the one I found in Survival Woman's article "Why Bake Homemade Bread" One reason I held off trying that particular recipe was I did not have a pizza stone. Not having a lot of storage space, I did not want to acquire more items in my already crowded cupboard. Well today I finally decided "no more waiting" and I just made the bread recipe featured in the article and adapted it to the equipment I have in the kitchen right now: large mixing bowl, cookie sheet, turkey thermometer. I used the turkey thermometer to check if the water temperature was at a lukewarm 100 degrees – it worked just fine. You do not need a food processor or any other mixers.
The Master Recipe: Artisan Free Form Loaf.
The original recipe was From Artisan Bread in Five Minutes a Day: The Discovery that Revolutionizes Home Baking by Jeff Hertzberg and Zoe Francois (Thomas Dunne Books, 2007). Copyright 2007 by Jeff Hertzberg and Zoe Francois.
Note: The recipe below is not the same exact recipe from the book or from Survival Woman's article. I changed the steps according to the materials I have in my kitchen. For an exact recipe, please refer to the original post or the book.
Makes four 1 pound loaves.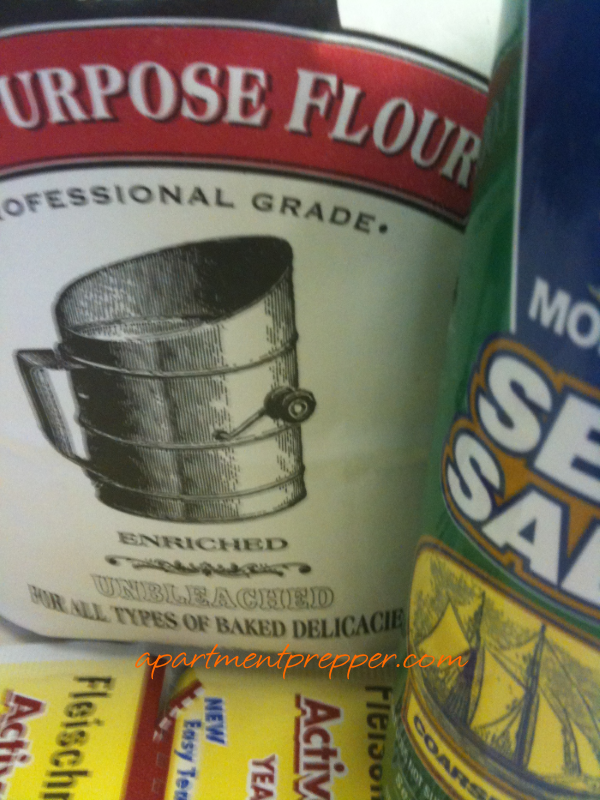 3 cups lukewarm water
1-1/2 tablespoons granulated yeast (about 1-1/2 packets)
1-1/2 tablespoons sea salt
6-1/2 cups unsifted, unbleached flour, measured with the scoop & sweep method
1. In a large bowl or plastic container, mix yeast and salt into 3 cups lukewarm water (about 100 degrees). Stir in flour, mixing until there are no dry patches. Dough will be quite loose. Cover, but not with an airtight lid. Let dough rise at room temperature 2 hours (or up to 5 hours).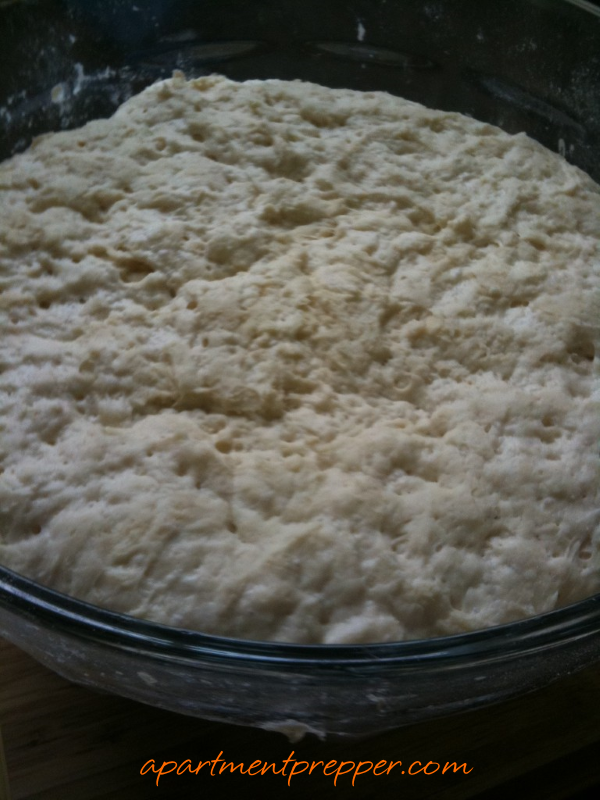 2. Bake at this point or refrigerate, covered, for as long as two weeks. When ready to bake, sprinkle a little flour on dough and cut off a grapefruit-size piece with serrated knife. Turn dough in hands to lightly stretch surface, creating a rounded top and a lumpy bottom. I set the grapefruit sized dough that I was about to cook on a baking sheet and let it rest for 40 minutes. Repeat with remaining dough or refrigerate it.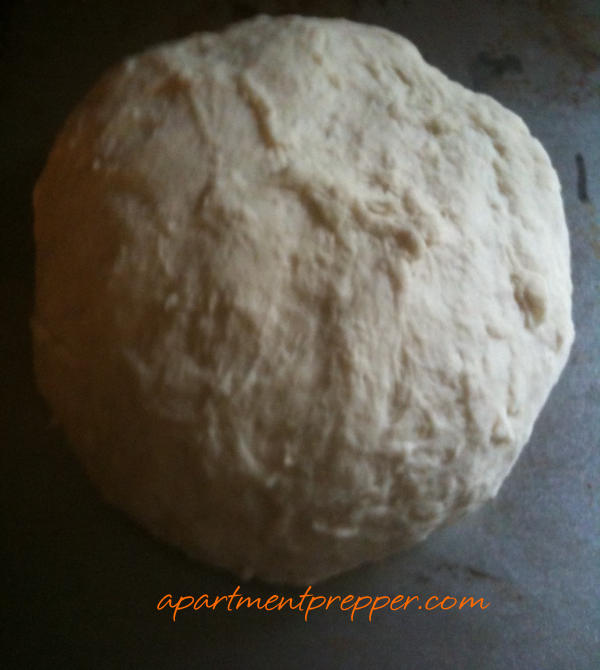 4. Dust dough with flour, slash top with serrated or very sharp knife three times. I placed the baking sheet with the dough into a preheated 450 degree oven. I placed a broiler pan with 1 cup water in the oven, in the bottom rack, then shut the oven quickly to trap steam. I checked after 15 minutes and the water had evaporated so I added another cup of water. Keep baking until well browned, about 30 minutes. Cool completely.
After 30 minutes, I went and checked the bread and found it looked done. The top appeared crusty but when I sliced with a serrated knife, it cut through pretty well and the bread was soft inside.
Now for the moment of truth: the taste test. I sliced a piece and tasted it… it was good! This bread is not sweet, it has a hint of salt in it and therefore good on its own. Warm and straight out of the oven, this bread tasted like those fancy breads you get at a nice restaurant. It was even better with butter. I let the rest of family try it just to make sure. They liked it too!
Best of all, I should be able to make a fresh loaf three more times this week. The recipe indicates you can store the dough in the refrigerator. I'll let you know how the subsequent loaves turn out. Next time I go to the store I am going to stock up on yeast and unbleached flour.
If you have any interest at all in making your own bread, don't hold off trying it. It's actually a lot easier than it sounds.
An update was posted about making artisan breads here.
For more preparedness tips, read my book: