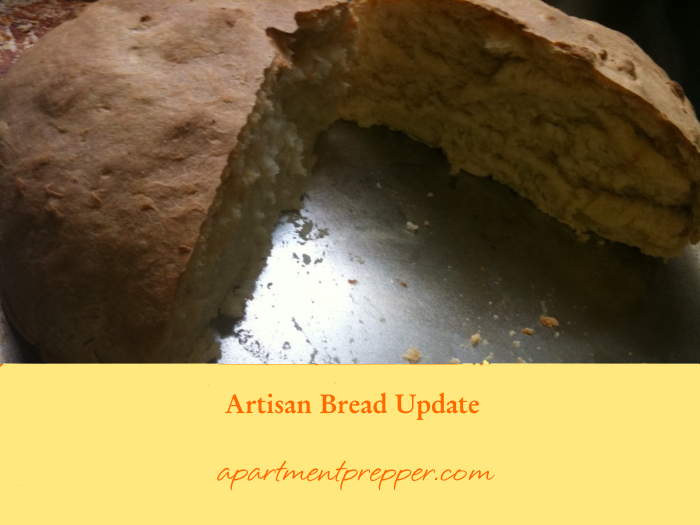 This post is by Bernie Carr, apartmentprepper.com
I posted about making homemade bread a few days ago.  The recipe indicated the dough can be kept in the refrigerator and used to make subsequent loaves.  I wasn't so sure how it would turn out so I am writing an update.
I stored the dough in the same bowl I mixed it in, covered by a sheet of aluminum foil in the refrigerator.   The 2nd time I made it, I tore another grapefruit size piece of dough, mixed it with flour and baked it in the same matter.  The second batch was exactly the same as the first batch.  It had a nice crust, and soft in the middle.  There was no difference in taste or texture.
The third time I made it was about 3 days later.  The dough felt less moist than before, and therefore needed less flour to be added.  I wanted to use up the dough and made a larger sized loaf.  Because it was a larger piece of dough, it also took about 45 minutes to cook all the way through instead of the usual 30 minutes.  I could tell because the dough looked moist in the middle when I cut it in half, so I let it cook a few more minutes.   After the longer cooking time, I sliced the bread as usual, served it with spaghetti.   Everyone liked it.
Verdict:  The subsequent artisan bread loaves tasted as good as the first batch.