(Author's note:  Whoops, I accidentally published this article earlier before it was ready.  I have edited it and now restoring the correct version.)
When first getting into food storage, the main things that come to mind are canned goods, staples such as flour, sugar and salt, meats etc.  Most of the time, fats and oils are left out of the initial food storage effort.  However, fat is an essential part of our diet, and a great source of calories at a time when a high calorie intake may be required, or if the diet consists of mostly grains and beans.  Fat is also necessary in maintaining the taste and texture of food.
The main challenge in storing fats and oils is the relatively short shelf life.   When stored for too long, fats get oxidized, which causes it to get rancid.  Rancid fat not only tastes bad, it becomes toxic and blamed for many ills such as heart disease, inflammation, atherosclerosis and even cancer.   Let's look at commonly used fats:
Butter
Regular butter does not store well at all.  You can store butter in the refrigerator for a couple of weeks.  I keep one bar in the refrigerator for everyday use, and keep the rest in the freezer.  Frozen, butter will last for about nine months.  Emergency Essentials has Butter Powder for long term food storage but I have not tested it.  If you've tried it, please comment and let us know how it is.
Ghee
The last time I went to the international market I saw several cans of "ghee," but I did not know what it was at the time.  I found out ghee is clarified butter, and is used in many cultures as oil.  While not realizing it, we have all seen ghee:  When you heat butter, you will see the clear oily part separating from the milky part.  The clear part is ghee.  Ghee comes in cans and can last for a year.
Shortening or lard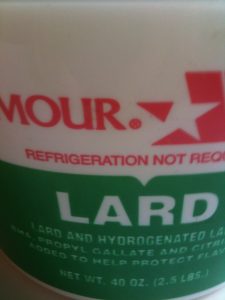 Shortening and lard are solid fats like Crisco or Armour lard as pictured above.  Lard is made from pork fat, tallow is from beef fat.   Solid animal fats have gotten a bad reputation in the past, and has been blamed for high cholesterol ; but now there are some studies that suggest it is not as bad as originally thought.  These days, trans fats are the "bad guy"  Trans fats can be found in shortening:  hydrogenated or partially hydrogenated oils normally used for baked goods contain transfats.  They increase the risk of coronary artery disease, diabetes etc.
Coconut Oil
Coconut oil is another oil that has gotten a bad reputation in previous years, thanks to lobbying and smear campaigns by other oil producers.  Coconut oil contains saturated fat, however it has been recently found that it has many health benefits and not harmful as previously purported.  The best type to use is cold pressed coconut oil, so it has not been previously exposed to heat that usually hastens the rancidity process.   Like other oils, coconut oil will last for a year.
Olive Oil, Peanut Oil and Vegetable oils
I use a lot of olive oil myself so this is the oil I have in storage.  I bought a five gallon can of olive and will be rotating the oil as I use the ones in the pantry.   Peanut oil is flavorful and I like to use small amounts in stir fry dishes.  Like other oils, an unopened olive or peanut oil container will last for a year.  I am currently not using other oils such as soybean or canola but if you do, they are also known to last for one year.
Tips for storing oils:
Store in a cool, dark place, no more than 70 degrees.  Keep your stored unopened oil in a box for maximum darkness.  Heat and light are the enemies of oil storage, as they are for food storage in general.
The oil in cans last longer than the oils in plastic bottles.  So if you have a choice, opt for the ones in the can.
Once opened, store your oil in the refrigerator to extend its life.  It may turn cloudy, but this will not affect the taste of the oil, and it does clear up once you leave it out on the counter.
Rotate religiously.  The only way you will keep the oil from getting rancid is by using it then replacing the item as you use it.  Use the "first in, first out" principle when it comes to rotating your food storage.
It might be worthwhile to learn how to render fats from pork or beef fat.  I am going to try it out and will post about results when I do.