This post is by Bernie Carr, apartmentprepper.com
It seems that there has been no shortage of bad news in the recent weeks, and things are sounding more and more worrisome.
A few weeks ago, I had already written that several governments around the world are telling their citizens to prepare.  Hurricane Matthew brought flooding and destruction to many areas in the U.S. and the Caribbean.   But it has not stopped there.
This past week, Russia test fired three ballistic missiles in the same day.  They have also told citizens to prepare for war.  Tensions between the U.S. and Russia appear to be highest since the Cold War.
Feeling More Urgency to Prepare?
You are not alone.   I am seeing more chatter and comments on Facebook and other social media that people are paying attention and worrying about what they can do.
You can do your own searches regarding the latest events around the world and make up your own mind.  My readers know I am not one to write panic-causing articles; I prefer to look at what's going on and see what we can do to prepare within our means.  Because of jobs and school, I already know we are not moving out of the city anytime soon.  Though many survival experts recommend moving to a retreat location in a remote area, we are not able to do that.  Like it or not, we would just have to be prepared where we are.
What can you do to prepare?
Here are some practical considerations:
Do you know how to get home in an emergency?   You and your partner should consider what you would do if an emergency happens in the middle of the day and you are at work and the kids are at school.   Decide who will do the pickups, and where you will meet.  Most people would naturally choose their home as a first choice for a meeting location.  However it is a good idea to plan on a couple of backup meeting places in case your area is not safe.  Plan your routes and avoid getting stuck in a traffic nightmare.
Evaluate how much food and water you have at home and how long your supplies will last you.  If you feel you could use more supplies, now would be a good time to add to your stores.
Do you have backup sanitation and hygiene supplies?  Here are a few sources:  Self contained toilet, waste bags, Travel John urinal
Here is a free resource on surviving a nuclear event:  http://survival-training.info/Library/Nuclear/Nuclear%20war%20survival%20skills%20I.pdf
If you are worried about radiation, check out this Family Radiation Emergency Kit.
Additional resources
If you have not started preparing or need a refresher, here are a few books that will help you:
Survival Mom:  How to Prepare Your Family for Everyday Disasters and Worse Case Scenarios
The Prepper's Water Survival Guide
The Survival Medicine Handbook
Prepare Your Family for Survival
Your Playbook for Tough Times (financial preparedness)
Or, if you prefer the free route, sign up for my newsletter and get a monthly summary of popular posts.  Visit similar websites that provide a lot of free information in current articles and archives about preparing for emergencies:
The Prepared Bloggers  (Facebook)
Having unspecified worries can keep you up at night, but you can counteract helpless feelings by taking steps to feel more in control.  Take steps to be prepared for any emergencies.  If nothing happens,  we'll all be grateful, say a prayer of thanks and hang on to our supplies just in case.
© Apartment Prepper 2016
For more tips on prepping on small budget, read my latest book: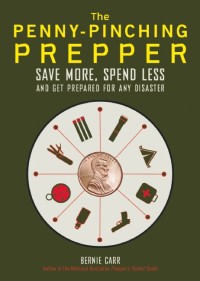 Disclosure:  Apartmentprepper.com is a participant in the Amazon Services LLC Associates Program, an affiliate advertising program designed to provide a means for sites to earn advertising fees by advertising and linking to Amazon.com