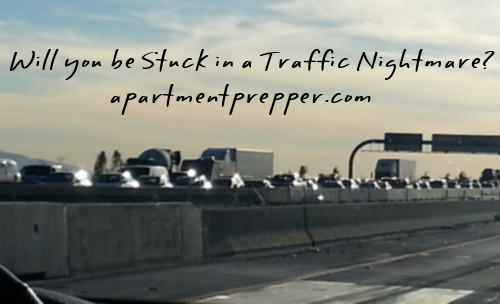 This post is by Bernie Carr, apartmentprepper.com
We all heard about the gigantic traffic jam in Atlanta a few weeks ago that resulted from the unexpected snow storm.   You can't really point a finger at one specific cause.  A number of factors contributed to the snafu, including lack of planning on the part of city officials, freakish weather, and some articles even blamed the problem on high dependence on automobiles.  Whatever it was, I felt bad for the residents that were stuck in unending traffic, cars running out of gas on the road, and kids having to spend the night at schools.
This is a nightmare that can easily happen anywhere.  It actually did happen in Houston, when residents tried to flee the city at the same time in the wake of Hurricane Rita.  Travel times to neighboring cities such as Austin that normally takes four hours, took 12-18 hours, and people did run out of food, water and gas in their vehicles.
And it can happen again.  It only takes one emergency that causes people to try and leave the city at the same time.  As long as you live in a metropolitan area that is heavily dependent on cars to get anywhere you need to think about the possibility.
Is there anything you can do to avoid it?
On a personal level, there are a few things you need to consider:
1. Start paying attention to your commute   Many people drive to and from work on auto-pilot, lost in thought and not paying attention to what's around them.  I've done my share of long commutes, and sometimes you just keep driving without realizing you've passed certain landmarks and you are really close to home.  Start paying attention, I mean really paying attention while driving.  Know what different exits to take, rush hour times, bad neighborhoods to avoid, traffic choke points and other obstacles that you can foresee will keep you from getting home
2.  Listen to the news  A lot of people I know don't care about the news and don't even check the weather.  You have to be aware of what's going on so you can have a plan for the day.  Have alternate ways to get news even in an emergency.
3.  Avoid the situation  If you hear there is a storm coming, decide quickly on whether you and your kids will try and venture out.   I know there is a price for missing work or school – lost wages, having to call your boss, missed lessons, but they may be overridden by safety issues.  Sometimes, the best thing to do is just stay home.
4.  Carry a car emergency kit     I wrote about building a survival kit for your car in case you get stranded.
5.  Know your kids' school emergency plan  Many schools go on lockdown in the event of an emergency.  Know the procedures, how and where to pick up your child.   Make sure the school has a backup emergency contact in the event you are unable to get there.
6.  Map out several routes you can take to get home or out of the city   Most people will rush to the same route they take to and from work.  Plan your alternate routes before anything happens.
If you do get stuck, there are things you can do to help yourself, as long as you plan ahead.
Carry a car emergency kit     I wrote about building a survival kit for your car in case you get stranded. 
Keep your gas tank half full at all times  This will keep you from running out of gas in a traffic jam.
Always have comfortable clothes and weather appropriate clothes in the car  If you do have to walk at least you can be comfortably dressed and not have your feet covered with blisters by the time you get home.
Sometimes you can do all the right things and still get stuck anyway.  But planning ahead may help you alleviate or avoid a difficult situation altogether.
© Apartment Prepper 2014
Vote for Me!
Please click here to vote for me at Top Prepper Websites!