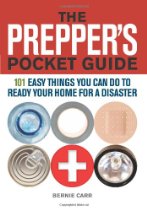 I am excited to post there are now a couple of reviews of my new book, The Prepper's Pocket Guide.  A while back I had mentioned there were a few review copies available and several readers had kindly offered to review the book.  The copies started to arrive in the last week or so, while some are yet to be received.
Reader C.F. Hill recently posted a review on Amazon under Customer Reviews.  C.F. Hill is a Top Ten Reviewer on Amazon and has written over 2600 reviews.
Survival Woman, over at Backdoor Survival has posted a review as well.   Some of her posts have made Top 5 articles on Activist Post.   Backdoor Survival is a great resource for both new and experienced preppers.   See the Review Getting Prepared Week 25: The Survival Guide for the Rest of Us.
WhatifItsToday is trying out some of the projects from The Prepper's Pocket Guide.  See the post Making Clean Water.  WhatifItsToday features articles on survival and self-sufficiency from the perspective of someone who already has elements of sustainability such as land, a well, animals and a thriving garden that we can all aspire for.
Thank you, everyone, for reviewing and utilizing the book!