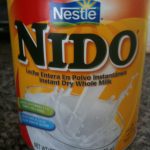 This post is by Bernie Carr, apartmentprepper.com
I ran out of regular milk and was waiting til the weekend to restock.  So I decided to try using one of my powdered milk supplies.   A real emergency is not a good time to be testing unfamiliar food items or supplies, since you cannot afford to waste time or resources at that point.
This brand is a whole milk product.  I followed the instructions and mixed the powder with water and tried out the finished product.
When served cold with some ice, the resulting milk is actually pretty good.  It had a slightly different flavor from fresh milk, but not bad or weird at all.  I used warm water per the directions then added ice.  I thought it would be harder to mix, but the dry powder dissolved pretty well.
Next came the kids' taste test.  Serve the milk from the fridge, with no ice, just like a normal glass of milk.  They actually liked it!  Also tried it with cereal and it turned out well.
The last test was when I tried mixing the powder with coffee, just like non dairy creamer.  Can you tell I use my favorite Christmas mug all year long?  🙂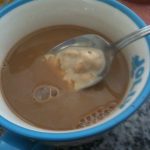 On hot coffee you had too mix it a bit longer to get rid of any lumps.  But once you mix well, the coffee tasted really good, just like with regular milk.  For folks that like cream in their coffee, powdered milk is not a bad substitute at all, and I am sure it is healthier than nondairy creamer.
I would recommend trying out powdered milk.  Use it for emergencies, to stretch the budget or for use when you run out of regular milk.  But start with a small can first.
© Apartment Prepper 2011