This post is by Bernie Carr, apartmentprepper.com
By the time I post this, the polar vortex has already caused damage to the northern parts of the Midwest and East Coast. Businesses and even the Postal Service ground to a halt.  The dangerously cold weather even caused multiple deaths.  Utilities were warning that they were overburdened.  Even cities that are accustomed to cold weather had not seen the likes of this historic cold.  Fortunately, temperatures are expected to steadily warm up.
Can the polar vortex happen again?
According to the National Weather Service, the polar vortex is a "large area of low pressure and cold air surrounding both of the Earth's poles."  When it expands and sends cold air via the jet stream, the polar vortex reaches many areas in the United States, Europe, and Asia.  It is not a new thing, any time the polar vortex is mentioned, it means it's about to get very cold.  It's happened before and it's likely to happen again.  If you felt less than prepared, now is the time to reassess and restock before another one comes along.
How to keep your space warm
You can always turn up the heat, but that may not be enough or what if utilities are down?  You need alternate ways to warm up your apartment:
Add layers to your walls
Back in the middle ages, the ancient castles were notoriously drafty.  To add warmth, they used large, heavy tapestries on the walls.  You can hang blankets, quilts or anything you can get your hands on to add insulation to the walls.
Cover your floors
Add blankets and rugs to your floors to add an extra layer of warmth.
Add insulation to your windows
I've personally used bubble wrap to cover my apartment windows, but trash bags or plastic film would work too.
One year we were out of bubble wrap, we used white paper and taped them all over the glass windows.  It looked fine from the outside and no one was the wiser.
Use a space heater
The Buddy Heater is a pretty reliable propane space heater.  Anytime you use a space heater, make sure you have air flow, you may need to crack open a window to avoid carbon monoxide poisoning.
Designate a warm room
Instead of being spread out, gather the family together in one room for utmost warmth.
Layer your bed
Pile on blankets and comforters or even old clothes.  The layers trap the heat, keeping you toasty in bed.
Make a warming rice pad
It is super easy to make one, and you may already have the materials on hand.  I posted instructions here:  DIY Hand and Foot Warmer
This video shows you how to make the hot pack.
Use a hot water bottle
Get one of those old fashioned hot water bottles, and fill with warm water.  Seal it tightly to avoid leakage.  You can quickly warm up your bed this way.
Dress in layers
You've heard this before:  wear thermal underwear, a couple of shirts, a sweater and a jacket.  Keep your head, hands and feet covered.  If you are going outdoors, cover everything to ensure your skin is not exposed.
Avoid cotton, and instead, use wool.  Wool socks with a liner will keep your feet warm.
If you are indoors, wear socks and slippers to keep your feet insulated.
Don't forget your pets
Bring your animals indoors.  Stock up on pet potty pads in case it is too cold to take them out.
Drink warm liquids
Make soup, drink hot cocoa, coffee or tea.
Alcohol may feel warm going down but it does not make your warmer.  Instead, it lowers your core body temperature so the warmth you feel is actually short-lived.
Do your baking
If you have power, now is a good time to bake bread, cakes or cookies.  The oven will raise the temperature in the house and will make your space smell heavenly.
Learn the signs of frostbite
This recent polar vortex was said to cause frostbite within 10 minutes of being exposed.  Several frostbite victims ended up in hospitals.  According to the Centers for Disease Control, frostbite often affects the nose, ears, cheeks, chin, fingers, or toes.  Signs include:
Skin that feels unnaturally firm and waxy
White or grayish skin
Numbness
It can be easy to miss frostbite, as the person may not notice it until someone points it out or the area starts to feel numb.  At the first sign, protect the exposed area, get out of the cold and seek medical care as soon as possible.  Frostbite causes permanent damage and possibly amputation of limbs if it is severe enough.
Check for hypothermia
Hypothermia is another dangerous condition resulting from exposure to extreme cold.  The body loses heat faster than it can produce it.  The person afflicted becomes unable to think straight or move very well, as low body temperature affects the brain.  According to the CDC, symptoms include:
Adults:
shivering, exhaustion
confusion, fumbling hands
memory loss, slurred speech drowsiness
Infants:
bright red, cold skin
very low energy
If you suspect hypothermia, take the person's temperature right away.  If it's below 95° F the person needs medical attention.  If medical attention is unavailable, start first aid procedures including:
Get the person to a warm room. Warm up the center of the body first—chest, neck, head, and groin. Keep dry and wrapped up in warm blankets, including the head and neck. (from Ready.gov)
Check on your neighbors
The elderly are vulnerable to extreme weather, especially if they live alone.
Avoid going out
This is where your preps come in.  If you don't have to go outside, then stay indoors.  Use your stored food and restock when the weather is cooperating.
Stock up on emergency supplies
Make sure you have enough water and food to last for several days.  Two weeks worth of easily prepared food would be a good amount to have on hand if you are starting out.  Get your power outage supplies as well.  It's also a good idea to have some entertainment for an emergency as phones and gadgets can fail in extremely cold weather.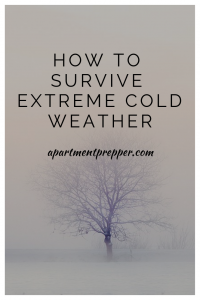 © Apartment Prepper 2019