Living in an apartment in a big city, I wondered what it would be like to make a complete change and live off grid in a nice piece of land somewhere.  That's why I was excited to read Tammy's Trayer's new book, How to Embrace an Off-Grid Lifestyle.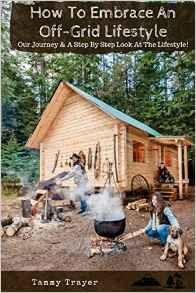 Who is the author?
The author of the book, Tammy Trayer, blogs  at TrayerWilderness.com.  She is also a radio show host at Mountain Woman Radio. Tammy and her family live off-grid so she knows all about living off the land, wilderness survival, and practicing traditional and primitive skills.
About the book
The book is written in a friendly, conversational style.  I was immediately engrossed in reading the book.  Tammy is forthright about telling her story, from how she met Mountain Man, her husband, their move to the wilderness and the steps they took to build their homestead.  She does a good job guiding the reader through thought processes involved in deciding if this lifestyle is right for you.  In subsequent chapters, she addresses the various issues about living off grid:
Choosing the right property
Water needs
Tools
Toilets- sewer, compost or outhouse
Power needs
There are also sections on skills such as gardening, food preservation, foraging, hunting and many more.   I was also interested in the sections about how one can afford to make this transition and how to generate an income while homesteading.
If you are even slightly curious about living off-grid, How to Embrace an Off-Grid Lifestyle is a must read.  Even if you choose not to pursue homesteading, the book is a fascinating read as it gives an accurate and honest look at what it's like to live in a remote wilderness location.  I highly recommend you order the book or read via Kindle.
© Apartment Prepper 2017
Disclosure: This is a professional review site that sometimes receives free merchandise from the companies whose products we review and recommend. We are independently owned and the opinions expressed here are our own. Apartmentprepper.com is a participant in the Amazon Services LLC Associates Program, an affiliate advertising program designed to provide a means for sites to earn advertising fees by advertising and linking to Amazon.com.