Written by Bernie Carr
When I received an invitation to check out the AR-6 Steambow Stinger Crossbow, I was initially a bit skeptical about it. I had not thought about using crossbows for defense in the past. But I got to thinking there are many people who have limited or no access to firearms and therefore may be considering the crossbow as an option. I decided now would be a great opportunity to try one out.
What is the AR-6 Stinger 2?
According to their press release:
The AR-6 Stinger 2 is a 6-shot, lightweight, fast-loading crossbow pistol designed for use as a recreational weapon as well as for home defense, pest control, and small game hunting. At a weight of 1.15 kg and at an average retail price of €300 (approximately $356.14 USD), its appeal is very broad. Its design eliminates the requirement of fine motor control, and its polymer-based construction makes it highly resilient even with minimum maintenance.
The Stinger 2 can be handled by novices and experts alike, and makes near to no demands to physical strength and prior experience. It can be kept safely even fully loaded, and can be cocked and ready to use in mere seconds. Practiced shooters have achieved six shots in just four seconds.
Specifications:
Magazine capacity: 6 arrows
Total weight: 2.6 lbs including shoulder rest and vertical foregrip.
Total length: 21.9 to 24.9 Inches (depending on stock adjustment)
Width: 17.5 in
Limbs: 55 lbs. / 90 lbs. (Included in delivery is the 55. lbs limbs)
I wanted to find out for myself so we set up for target practice out in the desert.
Assembly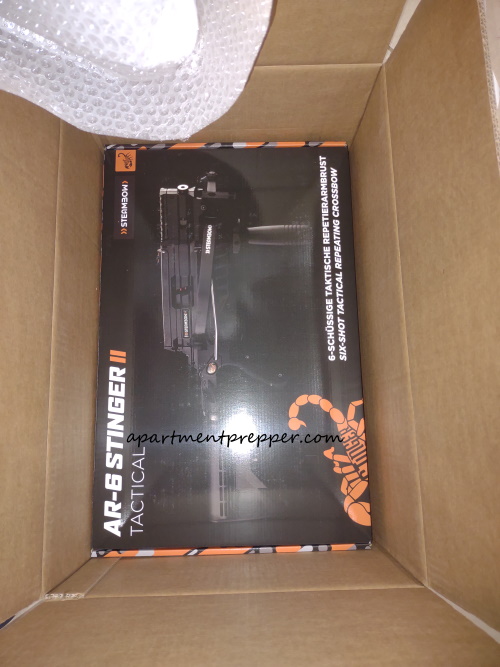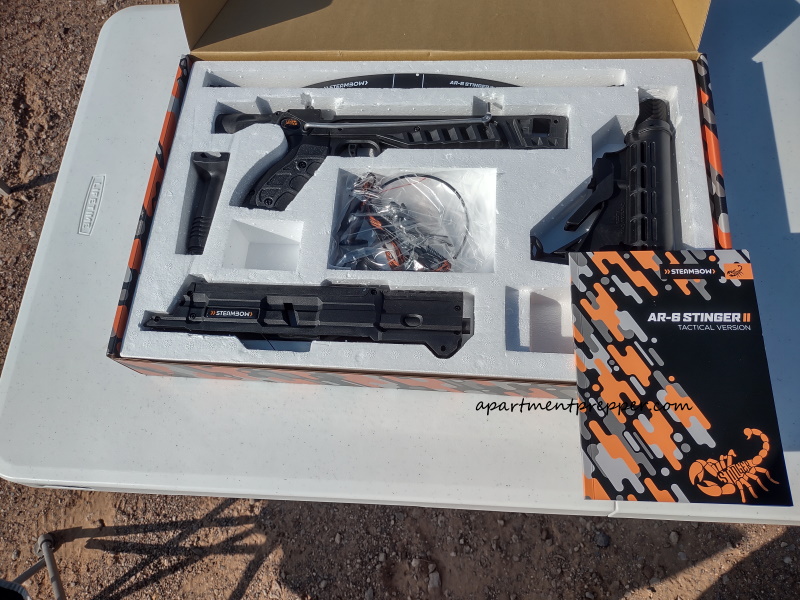 The crossbow and the training bolts arrived in two separate shipments from Austria. They come separately as the packages have to go through customs and company found it is easier if they are sent in different packages. However, there was no issue in delivery as the shipments came within a couple of days of each other.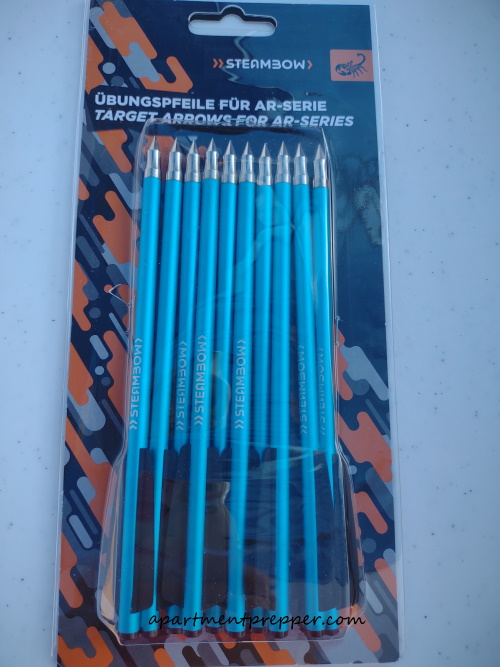 The AR-6 crossbow was not too difficult to put together. One person can assemble it with no problems. The tools needed to assemble it came with the box – allen wrench, screws, bolts. We did use our own small wrench to secure a bolt that attaches the magazine to the body.
The one issue I noticed was the instruction manual did not include a parts list for the crossbow. It would be very helpful to have a diagram and parts list, especially for a novice user.
Testing the crossbow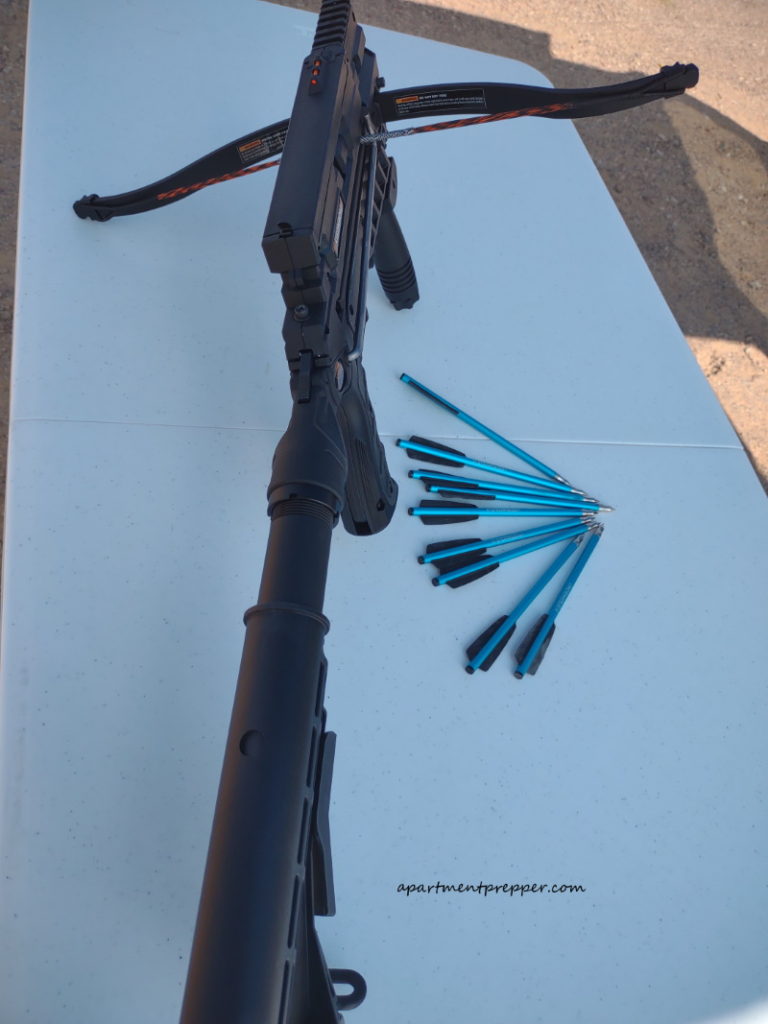 We tested the crossbow at seven meters (21 feet), then at 30 meters. It is easy to load, and very lightweight. I tried it myself to see if you need strength to use it, and found you do not need to be super strong to use it. It is lighter than a pistol and can be held with one arm easily.
At seven meters, the bolts went through the box target and flew 70 yards past the box. We had a long walk to retrieve them 🙂 We found it to be accurate up to 20 meters just as the product description indicates.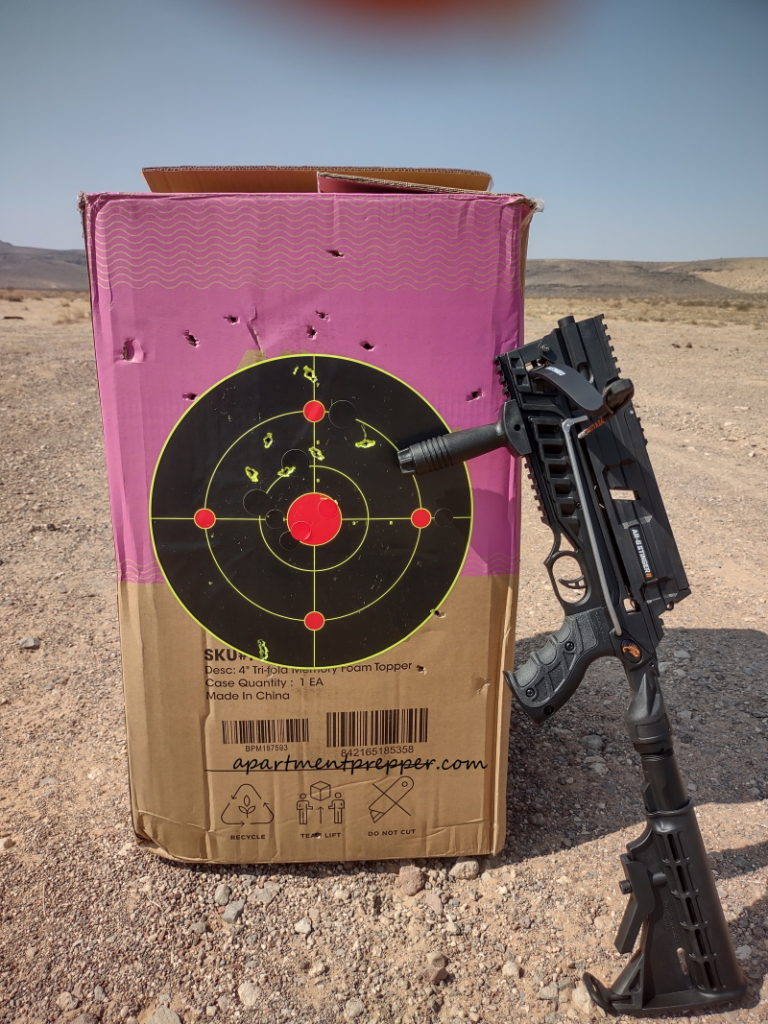 The training arrows provided were sharp enough, but you can also order broadhead hunting arrows and bodkin arrows. After an hour of repeated use, the center serving string did fray a bit, but they did provide two in the box. The strings can be repaired and are readily available.
It was fun to shoot – I thoroughly enjoyed using the AR-6 Stinger.
Maintenance
I checked with my contact at Steambow as I was curious about how one would maintain the crossbow. He indicated:
Essentially the Stinger 2 is designed to be pretty low maintenance. Waxing the string and lubing the rail are two things you can do, as well as checking that the limbs are still firmly in position. The design and power of the AR-6 Stinger 2 does put strain and wear on the middle serving, less so on the string itself. As the middle serving typically wears out after about 200-300 shots, Steambow has priced the strings very cheaply so replacements can be comfortably bought or even stockpiled if owners prefer. Besides, repairing the middle serving takes less than 5 minutes of work. So, if the user likes or is in a more desperate situation, the string life can be extended for a very long time.

Source: Nick at Steambow
Are crossbows legal to own?
Every country varies, so check your local laws regarding owning a crossbow. In the United States, there are currently no laws prohibiting crossbow ownership or use. Check on your state's hunting regulations if you intend to hunt with one. Before making your choices for home security, always consult your current state's laws as they can change over time.
Can you use it for home defense?
After trying it out, I would say yes, the Steambow AR-6 Stinger 2 Crossbow can be used for home defense. The range of seven to 20 meters accuracy is sufficient for most homes' typical room sizes. Of course, this is not to be considered as an everyday carry weapon, but it can certainly be kept next to your bed.
One advantage of the AR-6 crossbow for home defense is it can be loaded at all times, as it will not fire unless it's cocked. Of course you would still need to keep it out of the reach of children at all time.
In addition, I think it would also be good for recreational target practice and hunting small game. It was fun and easy to use. If you do not have access to firearms and would like some options for home defense, Steambox AR-6 Stinger 2 Crossbow would be a worthwhile choice. Steambow is in the process of making their products readily available in the USA as soon as possible. For now, Steambow offers affordable international shipping with UPS and has two local dealers: www.pyramydair.com and www.gogun.co.
Here's a video of our test: https://youtu.be/dkGuOlT4i5o
---
Bernie Carr is the founder of Apartment Prepper. She has written several books including the best-selling Prepper's Pocket Guide, Jake and Miller's Big Adventure, The Penny-Pinching Prepper and How to Prepare for Most Emergencies on a $50 a Month Budget. Bernie's latest e-book, FRUGAL DIY has just been released on Amazon. Her work appears in sites such as the Allstate Blog and Clark.com, as well as print magazines such as Backwoods Survival Guide and Prepper Survival Guide. She has been featured in national publications such as Fox Business and Popular Mechanics. Learn more about Bernie here.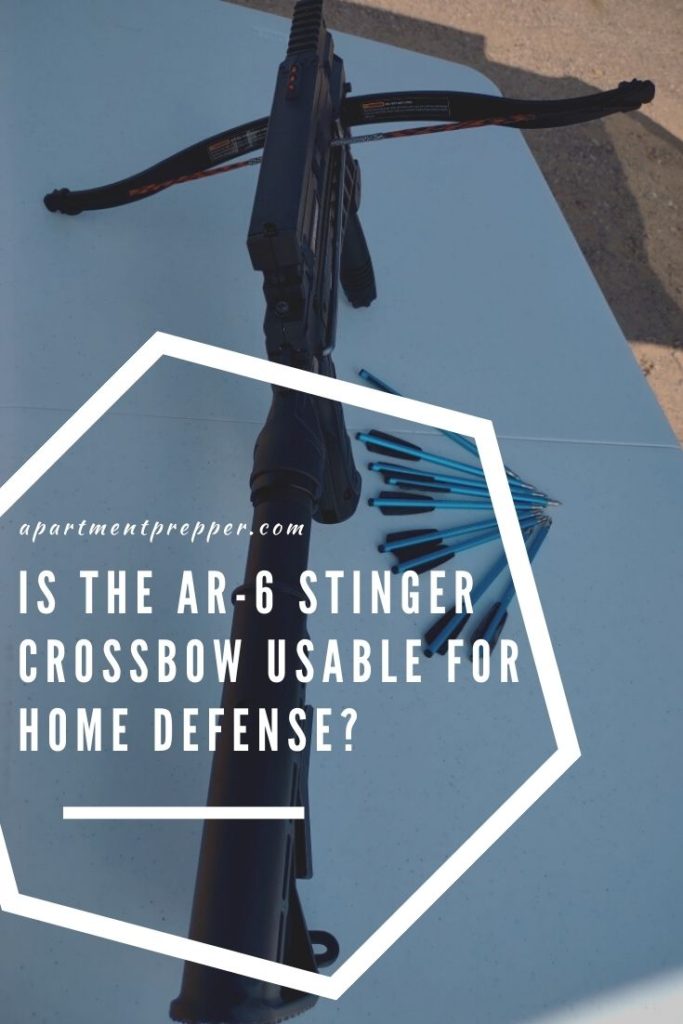 #homedefense #pistolcrossbow #AR6stingersteambow