This post is by Bernie Carr, apartmentprepper.com
Last week I told you about my food dehydrator adventure. This week I got to experiment with making soap at home.  My son gave me a soap-making kit for Mother's Day.  Yes, my kids know what I like 🙂
The kit we tested was Chelsea's Sage Basil and Mint Soap-making Kit.
What the kit includes
It has everything you need to get started with "melt and pour" soap-making:
2 1 lb. bars shea butter soap base
basil, sage, and mint fragrance oil
eucalyptus and spearmint fragrance oil
basil essential oil
eucalyptus essential oil
2 soap molds
packet of crushed mint leaves
2 liquid soap color – yellow and green
4 vitamin E capsules
pipettes for measuring oils
instructions
We decided to use one half of the soap base for our first try. This way if we mess it up, we have another chance.
Other materials needed:
Container where you can melt the soap base – I used a large measuring cup
Thermometer – I only have a meat thermometer so I used that.
Microwave safe bowls
Wooden chopsticks for stirring – the instructions said wooden spoon but I substituted wooden chopsticks.
Soap-making Steps
1. First, we cut the soap base bar into smaller chunks. We then separated them into two equal piles so we can use the two soap colors separately.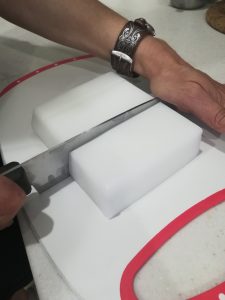 2. The instructions gave two methods for melting the soap base: double boiler or microwave. We opted for the microwave method: heat for 15 -20seconds at full power until melted. Soap base melts at 140 F, and the instructions indicated it should not exceed 160 F. It took about three 15 second tries in our microwave but your results may vary depending on your microwave.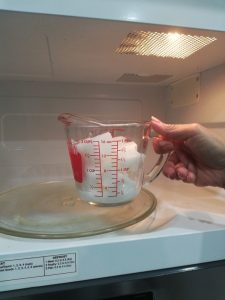 3.  We then poured the melted soap base into a bowl, then mixed in a few drops of green coloring. The temperature stayed around 140 F.
4. The fun part is adding the fragrance.  We used the basil, sage, and mint fragrance oil – about 15 drops, plus five drops of eucalyptus oil.  The resulting mix had a clean scent which I really like.
5. I coated the soap molds with a bit of oil for easier handling.
6. We repeated the steps above. The second time around we used the yellow coloring, but the same fragrance and essential oil.
7. If the mixtures start to harden, just microwave for 10-15 seconds.
8. Once both colored mixtures are ready, it's time to pour them into the mold.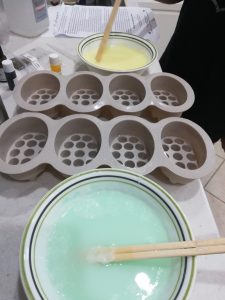 9. The instructions indicated you sprinkle the dried mint either on the bottom of the mold or on top of the soap base. We tried sprinkling it after we already poured the mixture.
10. The soaps dried within three hours. We placed them in the fridge to make sure. The dried mint did not stick but the soap turned out fine. Next time we will add oatmeal and mint leaves into the mixture.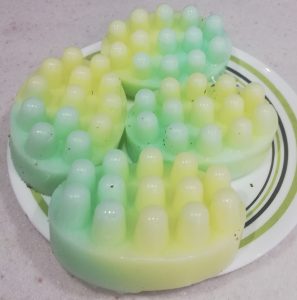 Result
I really like the smell of the soaps. They also clean very well.  All in all, Chelsea's Sage Basil and Mint Soap-making Kit was very easy and fun to use.  I would definitely try making soaps again.  Now that I know what to do, I will buy more soap molds and the ingredients individually and experiment with various mixtures.
© Apartment Prepper 2019