This post is by Bernie Carr, apartmentprepper.com
I got a notification that there is a phishing scam that looks so convincing even the techie folks at my job were taken in.  In this particular case, the email was created to look like it came from technical support, and it was letting everyone know "your computer is infected with a virus."  The email then instructs the recipient to click on a link to get the fix.
How does phishing work?
Phishing works by tricking the receiver of the email to click on an attachment or link that then infects your computer with malware, or sends you to a site that steals your personal information.  Many emails look very authentic, as the email may look identical to real ones from legitimate sites such as your bank or online store.  The email usually sounds urgent.  You then feel compelled to click on the link, and enter your information to access your account.  As soon as you do so, "BAM!" bad things happen.  The scammers get access to your account, or your computer gets infected with malware.
How do you avoid getting victimized by a phishing scam?
Be observant
Look at the email closely – are there little things that appear wrong, such as a misspelled word, or the color of the logo looks a little washed out?
Who is the sender?
It is not always easy to figure this out.  The sender may say "IT Department" or "Amazon Customer Service" and even include logos of well-known companies.  There is a quick way to find out if it's legit.  Mouse over the actual email address of sender of the email and you may see a slight misspelled word such as chacebank, instead of chasebank (example only).  You may even see a completely different email address, such as iclickonscams@phonysite.com or jim@scammers.com   I just made up these examples but you get the idea.
Don't open the door to strangers
Everyone knows you should not open emails from strangers.  I get emails with subject line "Let's be friends" or "I'm lonely, what's up?"  Those are easy to weed out-just delete.  But if you get an email from someone you have not heard from in years, you may be tempted to open it and catch up with the person.  Not so fast,  I have gotten emails from parents I knew when my kid was in first grade, and now it's 12 years later.  Why would they contact me now?  I actually called a person I got such an email from.  It turns out their email address was hacked and someone was using their email address to send phishing emails.  If you are curious enough to find out, don't click on the email, contact the person via social media or phone call and sort it out.  More than likely, it's a phishing email from a hacked account.
What if you really have a problem with the bank or store?
If there is an issue, the bank or store will likely tell you to log into your account directly.  When I receive a notice like that, I close out the email without clicking on any links, as well as the browser.  I then open a new window and log into my account and check for any messages within my account.  Or, I call the main 800 number and speak to a representative.  I've had situations where there was an actual problem and I had to clear it up, and I've also had instances where there was no issue at all and it turned out to be a phishing scam.  After I notified them of the suspicious email, I forwarded the suspicious email to the bank's fraud department.
Don't rush
Take your time when opening emails.  Sometimes, there is an inclination to click too fast to get things over with.  However it only takes a few seconds to be vigilant and avoid becoming a victim.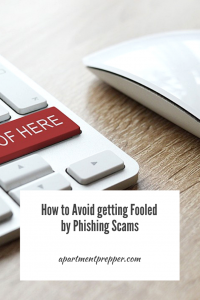 About the author:
Bernie Carr is the founder of Apartment Prepper. She has written several books including the best-selling Prepper's Pocket Guide, Jake and Miller's Big Adventure, The Penny-Pinching Prepper and How to Prepare for Most Emergencies on a $50 a Month Budget. Her work appears in sites such as the Allstate Blog and Clark.com, as well as print magazines such as Backwoods Survival Guide and Prepper Survival Guide. She has been featured in national publications such as Fox Business and Popular Mechanics. Learn more about Bernie here.