This post is by Bernie Carr, apartmentprepper.com
During the holidays, people congregate and celebrate together.   There are church services to attend, Christmas parties and all sorts of gatherings.  Unfortunately, crowded events also become targets for violence, such as the San Bernardino Christmas party shooting in 2015, church shootings in Charleston and Sutherland Springs. 
These are not just limited to the U.S.  As I write this, new incidents are being reported: there has been a shooting at a cathedral in Brazil and one near a Christmas market in Strasbourg, France.
It saddens me to hear of these tragedies.  Instead of being carefree, people now worry about safety while attending functions or just being out and about.  When I heard about a new book called "What's Your Plan? A Step by Step Guide to Keep your Family Safe During Emergency Situations,"  I thought it is a very timely subject.  The author, James DeMeo spent 21 years in law enforcement as a member of the Nassau County Police Department in Long Island, NY.  He is considered a subject matter expert in Event Security.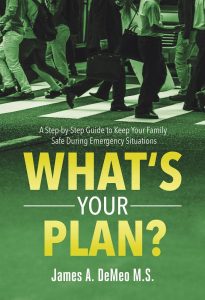 I sent the author, James DeMeo a few questions that I am sure is on everyone's mind.  Here is Part 1:
Staying Safe While Attending Church
1.  In light of the recent church shootings: People may feel vulnerable attending services – what is the best way to deal with fears regarding a possible incident at church?
Generally speaking, churches/places of worship are considered soft targets. This means that they are not usually protected by armed guards/law enforcement along with screening measures like metal detectors and hand wands. With the tragedy coming out to the Pittsburgh synagogue massacre on Oct., 27, 2018, we are seeing an increased presence of armed security/law enforcement working within these spaces. With this being said, we are now in full swing for the Holiday Season with Christmas Day coming up in the next two weeks. Pittsburg was a tragedy in every sense of the word. The need to safeguard soft targets can not be underscored during these difficult, trying times.
Below you find some suggestions for best dealing with any fears associated with attending your local church-place of worship:
Pay attention to the news around the world-an educated church attendee is a safe one.
Volunteer to become a part of your church safety team. Take an active role in attending security briefings and sharing important information with your church leadership team in a timely manner.
Know the exact location of your church AED-automated external defibrillator-AED-take a training course. Your training could possible save a fellow parishioners life who may be having  a medical episode while attending service.
Look for signs of a disgruntled fellow church goer, one who may be appearing abnormal or acting out of the ordinary. Someone may just be having a bad day. Let church leadership know immediately if you see someone/someone not acting right. Don't presume it's another person's responsibility to do so. Be involved in the process. After all, we are talking about Your personal safety here.
Staying Safe While Attending Crowded Events
2. What is the most important recommendation regarding about staying safe while attending crowded events such as concerts, amusement parks or even just going to a bar?
Tough question, but an important one to ask. Concerts tend to take place inside stadiums, venues and arenas. These areas tend to be densely populated areas, crowded areas with large groups of people within tight spaces. Post Las Vegas, Thousand Oaks, Manchester, Pulse, the list goes on and on , each had their own unique security challenges. Las Vegas had an aerial assault which is considered a black swan event in the security industry. An unprecedented event, a game changer in ever sense of the word. Lessons learned and sharing best practices are the prevailing themes coming out of these senseless tragedies.
The most important recommendation for dealing with potential challenges while attending these types of events are to See Something Say, Something and Run, Hide Fight. Also, create a pre-planned response on knowing what you will do, how you will get your family out of a difficult situation in a tight space. The fear factor comes into play when families don't plan in advance. Know how to get out, know we your car is parked, have a fully charged cell phone, stay together as a family. There is always strength in numbers. Follow law enforcement's lead, direction and guidance when they arrive on scene. Be out in front means you have know what your response will be before it happens.
For more advice about keeping yourself and your family safe in crisis situations, take a look at "What's Your Plan"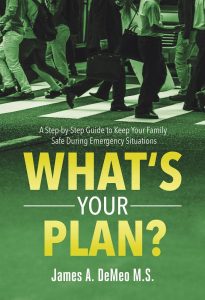 Here is Part 2 of staying safe in crowded events:  https://apartmentprepper.com/worried-about-safety-while-attending-crowded-events-part-2-2/.