This post is by Bernie Carr, apartmentprepper.com
Just a quick post today, on the last week of September.  These past few weeks have been beset with disasters:  Texas was inundated by Hurricane Harvey, followed by Florida's Hurricane Irma.  Now Puerto Rico is experiencing "apocalyptic conditions" in the aftermath of Hurricane Maria.  The U.S. is not the only country that had disasters – Mexico City experienced a terrible earthquake and emergency crews are still looking for survivors.
September is  National Preparedness Month
Natural disasters and other dangers can arise anytime, anywhere.  I think now is good time to top off your emergency supplies and take advantage of deals for National Preparedness Month.
Food
My Patriot Supply is hosting a giveaway for 4 weeks worth of emergency food.  Click to enter:  My Patriot Supply 4 week food supply giveaway
Emergency Essentials is having a huge September sale-just click on the link below:
If you have never had freeze dried food, start small and order a few individual cans before making a huge purchase.  I highly recommend the Noodles and Chicken and Cinnamon Apple Slices.
Of course, you can always head to the grocery store.   Fall sales are now going on and a lot of portable foods for school lunches that can easily fit in an emergency kit are being sold at a reduced rate.
Water
These water containers work really well and are BPA Free.   Consider a water filtration system such as the Berkey  – we use our all year and save on bottled water.
Sanitation
If you don't need food or water, you might want to consider sanitation supplies.  Emergency Essentials has the Toteable Toilet with Enzyme Packets at 32% off among others things.
Camping Gear
Since summer is just ended, ending, sports and outdoors stores are discounting a lot of camping equipment.  Backpacks, tents and coolers are all going for a good rate.  You can also hit the garage sales still going on every weekend in most neighborhoods and hunt for flashlights, battery operated radios, propane stoves etc.
Skills
If you feel you don't have the budget to buy anything, try honing your survival or homesteading skills.  Local high schools have been sending their adult education class curriculum and there are some excellent classes on CPR/first aid, canning, cooking, sewing, quilting etc.  You can even pick up a few handy money saving hacks by watching YouTube videos.   Having cash is crucial in times of emergencies – Learn how to boost your cash emergency fund with tips from Donna Freedman, popular personal finance writer, is giving away a FREE copy of the "Challenge Yourself to Save" chapter from her first book to anyone who asks.  To get the chapter, just send an email to:  SurvivingAndThriving (at) live (dot) com to request it.   Tell Donna "The Apartment Prepper sent me." 
So there you have it, lots of ways to improve your emergency preparedness regardless of finances.
© Apartment Prepper 2017
For more tips on prepping on small budget, read my latest book: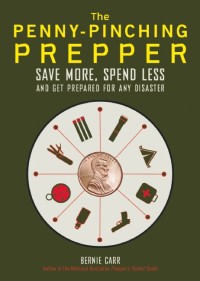 Disclosure: This is a professional review site that sometimes receives free merchandise from the companies whose products we review and recommend. We are independently owned and the opinions expressed here are our own. Apartmentprepper.com is a participant in the Amazon Services LLC Associates Program, an affiliate advertising program designed to provide a means for sites to earn advertising fees by advertising and linking to Amazon.com