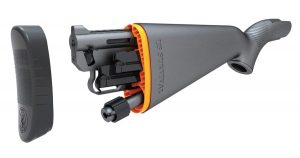 Today my family and I went target shooting at a local gun range.  I finally got to try out my new rifle, the U.S Survival AR-7 rifle.
Why did we choose this rifle?  I admit, I am no expert with firearms.  The truth is, my husband actually did all the research about the various rifles to choose from.  After he looked at all the choices, he narrowed it down and we talked about features.  The main reasons we decided on this rifle for me is the portability of the rifle, as well ease of use.  He did tell me that there are better alternatives, other rifles are much more accurate and reliable, but they are not as convenient or as portable as the AR-7.  As you can see from the photo above, the whole rifle disassembles.  The barrel, receiver and ammunition clips fit inside the stock.  The stock, when it is sealed, is made of waterproof material and is said to be able to float in case it's ever dropped in water.  However, I have not tested the waterproof aspect, we just took it target shooting.  To reassemble, all you have to do is attach the receiver to the stock, insert the barrel and screw on the barrel nut, with no special tools required.   I am not very technical, so it had to be very easy.  Another thing I like about it this rifle is very lightweight.
In regards to bullets, the rifle takes .22 bullets but as my husband researched it, he was aware that this rifle does not work well with standard .22 bullets.  We bought Mini mag 22 LR.  These bullets are 1235 FPS (feed per second).  I fired 50 rounds with these bullets and the rifle worked very well with no misfires.  It was very easy to shoot, and at 25 yards, my shots were pretty close to the target.

I do not have any connection to the the manufacturer of the rifle or bullets, and I do not recommend anyone purchase a rifle without thoroughly investigating all the choices.  If you are considering purchasing a rifle, please check out various brands and models and do extensive research before making a choice.   For my target shooting purposes, the AR-7 worked fine.