I am excited to announce my new book, The Prepper's Pocket Guide: 101 Easy Things You Can Do to Ready Your Home for a Disaster (Ulysses Press) is being published and will soon be available.
With easy to accomplish projects and lists, the book is a "how to" manual for anyone who is interested in preparing for emergencies. Geared toward beginners, I included lots of basic information on getting started, such as finding money for supplies, dealing with storage issues, gardening, bulk food storage, food preservation, cooking without electricity etc.
If you're wondering why I have not previously announced the book, I actually wrote it in near secrecy, as I wanted to have a completely finished product before announcing it to the world. One of the reasons I started preparing is I do not like uncertainty, and this applies to my everyday life as well. I wanted to be completely sure the book was finished, edited and ready to print before telling anyone.
Here is a picture of the book with a link to the Amazon listing: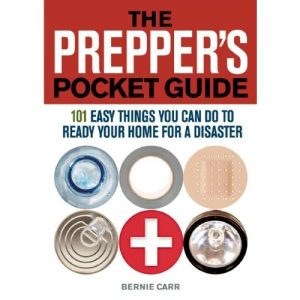 The publisher has a few advance copies for review. If you have a blog or website and are interested in reviewing The Prepper's Pocket Guide, please send me an email at apartmentprepper@yahoo.com before Friday, June 3rd. Please include a link to your blog as well as your mailing address. I ask that you post the review on Amazon and on your website. The publisher will be mailing the copies as soon as they become available. The first 10 emails will receive an advance copy of the book.
I believe the publisher was looking at mid-June, as far as the schedule goes, however, I am not sure of the exact date. I will keep you posted.