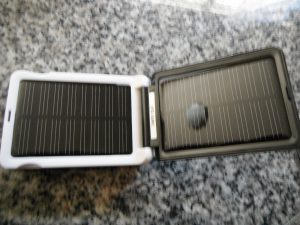 After the first failed solar charger test http://wp.me/p1dmhM-oJ I went and bought fresh rechargeable batteries from Lowes.  This solar charger, by XTG Technology, model XTG-SLRBC can charge both AA and AAA batteries, so I got a couple of sets of both types of batteries.  Just for good measure I also picked up a few more regular batteries, to get ready for hurricane season (see previous post "Hurricane Season is Almost Here" http://wp.me/p1dmhM-p8).  Costco had pretty good prices on regular batteries.  Here's the battery drawer: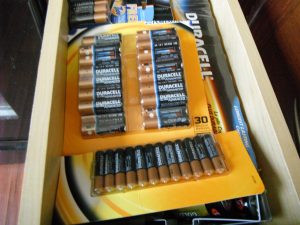 As I had done previously, I loaded the rechargeable batteries into the solar charger.
I then left it on a sunny windowsill.   After about 3 hours, I retrieved the charger and hooked up a drained IPod on to the charger.
Sure enough, the IPod immediately started charging.  This time my solar battery charger test worked well.  I now have a backup way to get some power for small electrical items like my cell phone in case of an extended power outage.  Because the item worked well I went ahead and added it to my Amazon store under Survival Gear.