Editor's Note:  A few weeks ago, reader Dianna Anna won our giveaway of The Mini Farming Guide to Composting.  She decided to write a quick review of the book and I thought I'd share it with everyone.  Thank you Dianna Anna!

The Mini Farming Guide to Composting by Brett L. Markham shows that composting in some form or fashion is entirely feasible no matter if you are just learning or have been doing this all your life.
I first learned about composting years ago in a commune in rural Mississippi.  I've had a compost pile in some shape or form since then, from chicken wire bins in my suburban back yard to large planters on my tiny patio. And over the years I have probably read a dozen or so books on composting. But, in this one book I was delighted to get everything I always wanted to know about composting including the technical stuff to go with it!
This guide starts with the science of the soil and covers indoor composting, worm farming, the difference between anaerobic and aerobic, and lots more like sheet composting and compost tea.  I finally got the info I needed for composting animal waste (that includes human too). Even better, this book  is printed on glossy paper so you can take it out into the yard with you and not worry about getting the pages dirty.
Buy this book!  It is well priced at just $14.95. Trust me, it is the only book you will ever need on this subject.
Get the real deal. Whether bugging out or sheltering in place, you can never have enough clean water for survival:
For your water purifier needs, please visit
: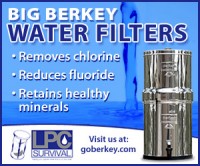 For beginning preppers