This post is by Bernie Carr, apartmentprepper.com
I had an opportunity to try a review sample of the Survival Hax Tactical LED Flashlight.

What's included?
Flashlight
Rechargeable 3.7v 18650 battery with plastic sleeve
Charger
AAA adapter
How does it work?
Operating the flashlight is very simple.  To turn it on and off, you simply press the green button at the bottom of the flashlight .  Lightly pressing the green button also allows you to switch among the following lighting modes:
High
Medium
Low
Strobe
SOS
How long does the battery last?
According to my contact at Survival Hax, the rechargeable battery lasts 5 1/2 hours on low and 3 hours on high on one charge.  Once the battery is completely drained, it will take eight hours to recharge it. 
Durability
The Survival Hax flashlight is durable.  I dropped it on a hard floor a few times and it did not break.  I have been disappointed with other flashlights before, as the glass quickly broke or chipped but not this one.
It is also said to be waterproof, dust proof and pressure resistant up to 2,200 pounds.
Trying it out
The flashlight is indeed well made and durable.  I was a little concerned that 3.7v 18650 battery may not be widely available but they are actually not that hard to find.   I was also pleased that the adapter allows you to use three AAA batteries.
The flashlight on High mode is very bright, giving off 1000 lumens of brightness.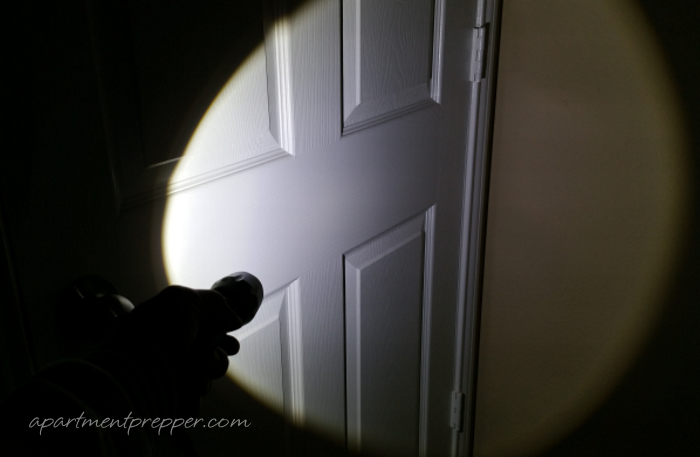 One thing I noticed that my other flashlights does not do is the zoom feature.  You can zoom in with the Survival Hax flashlight by pulling the head of the light; to zoom out, you just retract it.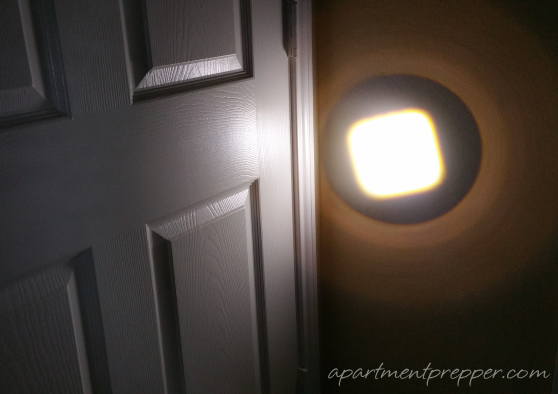 I like the Survival Hax Tactical flashlight.  I'd like to order a few more.  I'll keep one in the car glove box for emergencies, and in my camping/backpacking gear.  They are also great to give as gifts throughout the year.
© Apartment Prepper 2017
Disclosure: This is a professional review site that sometimes receives free merchandise from the companies whose products we review and recommend. We are independently owned and the opinions expressed here are our own.  Apartmentprepper.com is a participant in the Amazon Services LLC Associates Program, an affiliate advertising program designed to provide a means for sites to earn advertising fees by advertising and linking to Amazon.com.