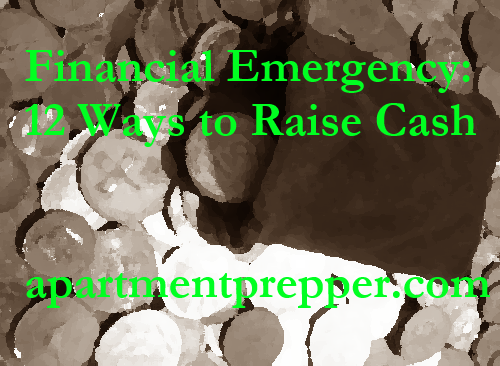 This post is by Bernie Carr, apartmentprepper.com
Everyone faces the need to raise cash at some point:  unplanned medical bills, car repair expenses, legal troubles etc.  It can get so dire that rent gets behind or utilities such as water and power are being threatened with disconnection.   Pretty soon, TV or radio commercials singing the virtues of payday loans start to sound tempting.
If you find yourself starting to wonder whether a payday loan may help you in the short run, consider the following:
Payday loans have outrageous interest rates.
If you fail to make the payment or need to re-borrow, those interest rates are going to be even higher: there have been cases where borrowers end up paying $1100 for a loan that was originally $250, leaving them in a cycle of debt slavery.
These loans are designed to keep the borrower in a downward spiral.
What to do if you find yourself with no credit, and need to raise cash quickly?
Evaluate why you need the money right away. Sometimes, a bill that is perceived as an emergency may not be as urgent as originally thought.
Utilities such as electricity, water and gas are urgent, but the cable is not as crucial.
Most utilities also allow you to make payment arrangements if you need to move the payment to align with your paycheck.  Be up front with them and explain your circumstances. When the time comes, you must stick to the arrangement to avoid disconnection.
For medical bills, doctors and hospitals are also happy to accept monthly payments.
2. Go through your belongings and find things you can sell.
Hold a garage sale.. If you live in a building that does not allow garage sales, join forces with a friend who can hold one.
List your items on Craigslist or Ebay.
Use a smartphone app such as OfferUp to sell items in your area
Advertise your items in community boards on Facebook.
3. Return unused items that still have the price tags.
I've seen friends' closets that contain outfits they bought but never wear, and still have the price tag on after several months. Many department stores will accept returns, but be aware they will refund the money if paid in cash, but if paid by credit card they return it to the card. Some stores will only issue a gift card, but this brings me to the next tip.
4. Sell your unused gift cards for cash. You'll have to sell them at a discount, but you'll get cash for gift cards you haven't used.
Find a CoinStar Exchange in your area and sell on the spot.
Try Gift Card Granny  or Cardcash
5. Hire out your services on Fiverr
The jobs start at $5 a "gig" but as services get added, the cash could add up. I've used them for small jobs, and each time I spent at least $25.  If you act professionally and deliver quality work within the time agreed upon, the jobs could add up.
6. Get a part-time job or create a side job: Start a pet sitting or dog-walking service, tutor kids after school, teach a skill or sport.
7. Collect and sell aluminum cans and other recyclables.
8. Pawn or sell valuables at a pawn shop.
9. Sell your handmade crafts on Etsy, swap meet or craft fairs.
10. Make money during your down time on Amazon Mechanical Turk https://www.mturk.com/mturk/welcome
11.  Rent out your car to someone else.  Most cities have peer to peer car sharing services such as Turo  I haven't personally tried this, but have read some car owners can make an average of $250 depending on the schedule.  Make sure you investigate thoroughly as to how it works, and what your protections are.
12.  Try borrowing from a peer to peer lender.  Peer to peer loans are unsecured personal loans from other people, facilitated by a lending intermediary that may charge a one-time fee.  Again, investigate all aspects and read the fine print before getting into anything.
If you are in a cash crunch, try one or a combination of the above tips.  Pretty soon, you'll have the cash you need to get by.  Keep your spirits up, and never lose faith that "this too, shall pass."
© Apartment Prepper 2017