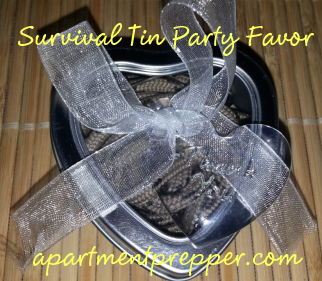 This post is by Bernie Carr, apartmentprepper.com
I got this heart tin as a wedding party favor.  Originally it contained mints but after they were gone, I kept the container.
I thought it would be fun to use it as a survival tin, as I had done a while back with my pocket sized first aid kit.  Instead of giving out candy, why not include items that could one day help someone out in an emergency.  It's useful, handy and can be stashed in a desk or purse.
Here are a couple of ideas:
All purpose survival tin
Include:
Strike anywhere matches
A couple of safety pins
Paracord
Anti-bacterial wipe
Cash:  a few coins and a bill
You can also include a couple of water purification tablets, paper clip, rubber bands etc.
First Aid Tin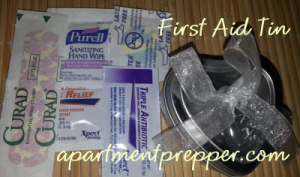 Include:
A couple sizes of adhesive bandage
Sanitizing wipe
Pain reliever
Antibiotic ointment
Diarrhea remedy (already inside the tin)
You can also add allergy medicine, a couple of cotton swabs, eye drops etc.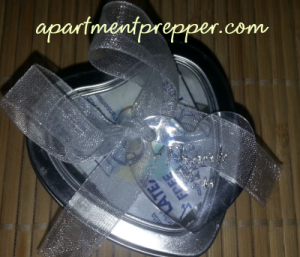 © Apartment Prepper 2014
Show young kids that being prepared can be fun!
© Apartment Prepper 2014
Please click here to vote for me at Top Prepper Websites!