Written by Bernie Carr
I try to keep my kitchen pantry well-stocked with basic cooking ingredients, but now that we only shop once every two weeks I occasionally run out of items before the next shopping trip. I was cooking fried chicken when I realized I only had a little bit of peanut oil and a little bit of avocado oil.
I was not sure if these two oils could mix so I started researching what would happen if you mix oils for deep frying. Here's what you need to know:
Considerations when mixing oils
Saturated or unsaturated
Saturated fats include butter, lard, coconut oil and palm oil. These oils usually solidify at room temperature. Saturated fats impart a lot of flavor but can cause an increase in cholesterol levels and potentially increase the risk of heart disease.
Unsaturated fats include olive, avocado, canola, flaxseed and peanut oil. Most of these are plant oils and are high in both mono- and poly-unsaturated fats. These fats do not raise cholesterol levels and therefore offer a reduced risk of heart disease and stroke.
If your doctor has advised you to avoid raising cholesterol levels, stay away from mixing saturated and unsaturated fats.
Taste
Some oils such as olive and peanut oil have a strong taste, and some oils such as coconut have a slightly sweet taste. Some oils are recommended for certain recipes, while some may not work out. For example, though I like coconut oil, I do not prefer it for fried chicken, and therefore would not mix any oils with coconut for that particular recipe.
If you mix oils, the oil with the stronger flavor will come through and affect your recipe, so make sure they are bland tasting oils that go with the recipe you are making.
Smoke points
When I was a newlywed in my first apartment in my 20s, I stepped away from the kitchen and left a pan full of oil heating on the stove. Next thing I knew, that pan started smoking and burst into flames. The flames were getting higher; luckily, my husband quickly extinguished the flames Lesson learned… Back then I was not aware of smoke points. The smoke point of an oil is the temperature that an oil will start to smoke or catch fire.
Some oils such as flax seed oil are not meant for cooking in high heat at all, but are used for salad dressings or as a dipping oil.
Oils have varying smoke points. When you mix oil, the mixture will take on the lower of the two oils' smoke point. Use a cooking thermometer to determine how hot your oil is getting. You mustn't use a very low smoke point oil with a high smoke point oil if you will be using very high heat for cooking.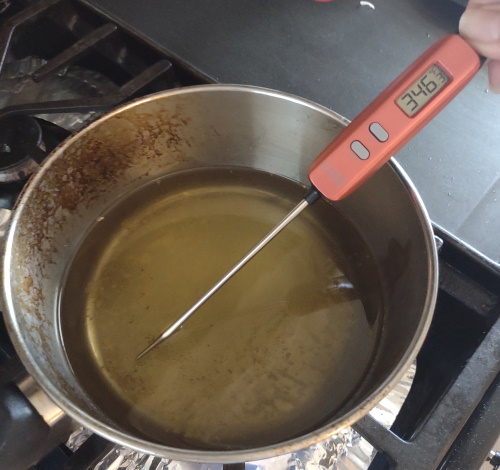 Here are some examples of smoke points of common oils I currently use:
| Fats and Oils | Max. Cooking Heat | Main Type of Fat | Smoke Points |
| --- | --- | --- | --- |
| Avocado Oil | High | Monounsaturated | 520°F |
| Butter | Medium | Saturated | 350°F |
| Butter, clarified (Ghee) | Medium-High | Saturated | 375 – 485°F (Depending on Purity) |
| Canola Oil (Rapeseed oil) | High | Monounsaturated | 400°F |
| Coconut Oil | Medium | Saturated | 350°F |
| Corn Oil | High | Polyunsaturated | 450°F |
| Flaxseed Oil | No Heat | Polyunsaturated | 225°F |
| Lard | Medium-High | Saturated | 370°F |
| Olive Oil | Medium, Medium-High, High | Monounsaturated | Extra Virgin – 350°F, Virgin – 420°F, Olive oil – 390°F-470°F |
| Peanut Oil | High | Monounsaturated | 450°F |
| Sesame Oil | High | Polyunsaturated | 410°F |
| Shortening, Vegetable | Medium | Saturated | 360°F |
| Vegetable Oil | High | Polyunsaturated | 400°F |
| Walnut Oil | No-Low | Monounsaturated | 400°F |
SOURCE: Colorado State University)
What happened when I mixed two oils?
Back to my fried chicken story… I did end up mixing avocado oil with peanut oil so I could have enough to fry the chicken. I made sure I did not set the heat too high, as the smoke point of peanut oil is 450°F and the smoke point of avocado oil is 520°F. I used a cooking thermometer and kept the oil temperature between 340°F to 375°F so it was not even close to either of the oils' maximum temperature. My fried chicken turned out very tasty and no one noticed any oily taste.
Can you mix oils like olive oil and vegetable oil?
In conclusion, you can safely mix oils as long as you consider the type of fat (saturated or unsaturated), the taste, and most importantly, the smoke points of the oils you are mixing. Fats and oils are an essential part of a food storage plan. so stock up on your favorite oils. Always remember that when mixing oils, the mixture will take on the lower of the two smoke points. If you mix extra virgin olive oil which has a 350°F smoke point) with vegetable oil (400°F smoke point), your resulting oil's smoke point will be 350°F so you shouldn't let your oil temperature go over that. To stay aware of your oil temperature, always use a cooking thermometer.
---
If you found this article interesting or helpful, please consider helping us out (without costing you anything)! We are an affiliate of Amazon.com, which means we received a small commission if you click through one of our Amazon links when you shop, at totally no cost to you. This helps keep the lights on at the blog. Thanks!
About the author:
Bernie Carr is the founder of Apartment Prepper. She has written several books including the best-selling Prepper's Pocket Guide, Jake and Miller's Big Adventure, The Penny-Pinching Prepper and How to Prepare for Most Emergencies on a $50 a Month Budget. Her work appears in sites such as the Allstate Blog and Clark.com, as well as print magazines such as Backwoods Survival Guide and Prepper Survival Guide. She has been featured in national publications such as Fox Business and Popular Mechanics. Learn more about Bernie here.