This post is by Bernie Carr, apartmentprepper.com
I just finished reading my review copy of the new book by Donna Freedman, Your Playbook For Tough Times: Living Large On Small Change, For The Short Term Or The Long Haul.  I have read Donna Freedman's articles for years, since she first started writing the MSN Money Smart Spending blog.  She has been through some tough financial times and has found a way to thrive.
This is a timely book
A lot of people are concerned about making it through hard times, and one of the most searched words include "worrying about economy" and "money worries."  We hear about companies closing up shop and laying off workers almost on a daily basis.  Not too long ago, I wrote about how prepping when living paycheck to paycheck, as many Americans find themselves unable to come up with $400 to cover an emergency.   It is no secret that people are struggling financially.
Topics of interest
Worried about what might happen if you lose your job?  There is section on conducting a financial fire drill is a great way to get realistic about your finances and what you can do to make improvements.
If you have trouble paying rent or covering medical needs, she has great advice on those matters as well.
I am always looking for ways to save or make a couple of bucks on the side.  The book has a great sections on consumer hacks and finding side gigs; I picked up several ideas that I had not tried out.    I particularly liked the chapter on stealth saving tactics.
Something for everyone
The book has great tips for anyone who:
are expecting a financial rough patch such as a job lay-off and wants to prepare
are already in financial trouble
wants to set some money goals and achieve them
I have found other personal finance books that seemed judgemental and make you feel bad about how you got yourself in financial trouble.  You won't find any finger wagging here.  The book is written in a friendly, easy going style, like a friend is giving you some advice.  You'll feel encouraged and empowered to take the next step to improve your money situation, whatever it might be.
I highly recommend Your Playbook for Tough Times.   Get it now before times get really tough.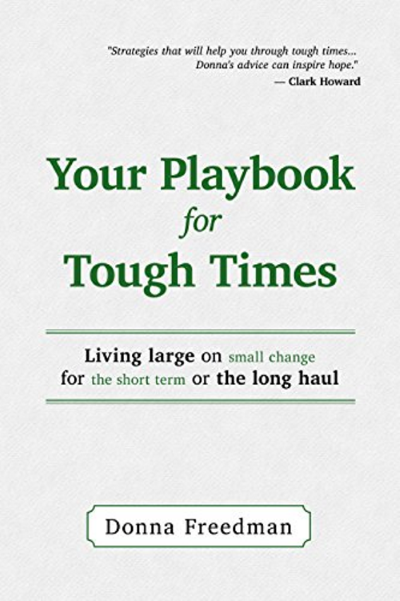 © Apartment Prepper 2016
Disclosure: This is a professional review site that sometimes receives free merchandise from the companies whose products we review and recommend. We are independently owned and the opinions expressed here are our own. Apartmentprepper.com is a participant in the Amazon Services LLC Associates Program, an affiliate advertising program designed to provide a means for sites to earn advertising fees by advertising and linking to Amazon.com