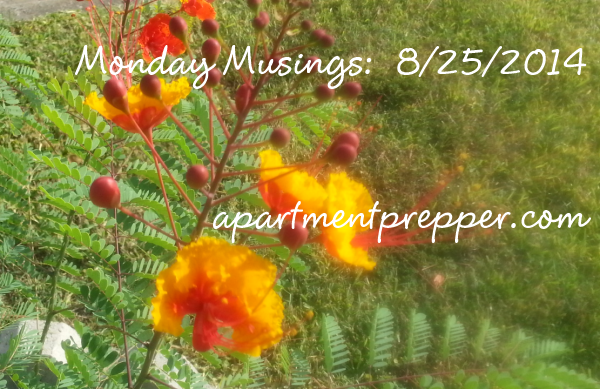 This post is by Bernie Carr, apartmentprepper.com
Welcome to another Monday Musings, where we share interesting links as well as updates on the blog and preps.
First the blog updates…
Thanks for taking the survey!  We had a great week at Apartment Prepper.  A good number of readers responded they like Monday Musings "as is" with both blog updates and link sharing.  We also got some great suggestions for future posts and I am working on those articles now.  Thank you everyone for responding to our first poll!
Who won Countdown to Preparedness?  Kathi won the random drawing.  She left the following comment:
New site that gives free resources: TopSecretSurvival.com
20 All Purpose Remedies Using Essential Oils
EMP: What You Need To Know To SURVIVE
Smart Survival Strategies for Kids: Forbidden Items at School
Is It Really That Easy to Live Off of Your Garden?
Take care and have a great week everyone!
© Apartment Prepper 2014