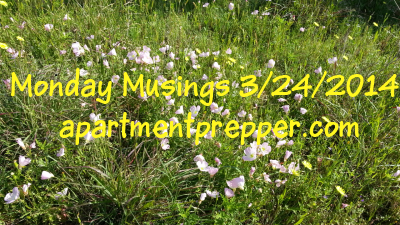 This post is by Bernie Carr, apartmentprepper.com
Welcome to another Monday Musings, where we share interesting links as well as updates on the blog and preps. 
First the blog updates…
Giveaway Winners  Thanks to everyone who entered the drawing for Through Many Fires.   Here are the 10 winners who have been chosen via a random drawing:
1) Smoker11
2) Jake R
3) Mom of 5
4) nathan
5) Dairy
6) Adam
7) grammyprepper
8) Jamie
9) Beth
10) Pierce
The author will contact the winners directly.
Now for the links…
BioLite Giveaway  Just wanted to pass this along:  BioLite is having a spring giveaway:  they are giving away a CampStove, KettlePot and Portable Grill, plus a bonus prize for referring friends to the contest.  We're not affiliated with them, but readers may want the chance to win.  Here's the link to the sign-up form: http://bit.ly/1oMItVD
What's it like to live with hyperinflation?  Here's a personal story:
Brazilian Hyperinflation: A Reader Explains What Life Was Like  Part 2
This could happen to anyone
Good to know    Alternate sources for power  http://tri-fuelgen.com
These stories always creep me out  
At least 59 people dead in Guinea Ebola outbreak
 Ebola Outbreak: Could It Happen in the United States? The Answer May Surprise You
Take care and have a great week everyone!
 © Apartment Prepper 2014
Vote for Me!
Please click here to vote for me at Top Prepper Websites!
 Check out these deals!

Get out of debt