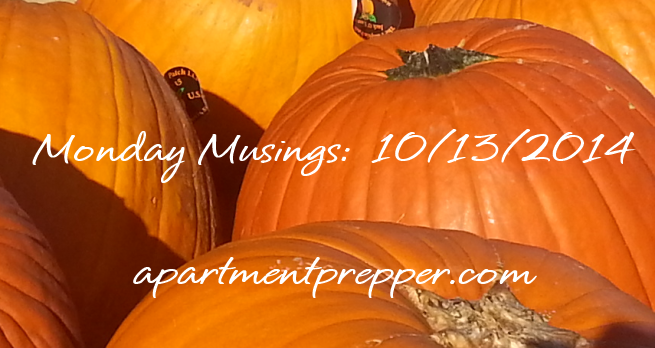 This post is by Bernie Carr, apartmentprepper.com
Welcome to another Monday Musings, where we share interesting links about all things preparedness, as well as updates on the blog.
First the blog updates…
As I write this, we are hearing about a nurse who tested positive for ebola in Dallas.  The articles state she was wearing protective gear during the time she had contact with Mr. Duncan the first ebola patient who has died, however there was a breach in protocols.  Seeing a lot of searches on the blog about this; I urge you not to panic but stay informed and read all you can about it.  If you haven't already, read previous articles I've written here and here.  I am sure we will be discussing this more in the coming weeks.
Lot's of giveaways!  Don't forget to enter the Cox's Honey Giveaway that's going on right now.
We're doing two more this month, so please check back.  Today's Monday Musings is likely to be the last one for October, as we will be announcing those giveaways the next two Mondays.  I'll still be posting my regular articles as usual.
Good deal on non GMO seeds.  We also have the great discount offer from Seeds of the Month Club for Apartment Prepper readers – 25% off their regular price if you sign up through our Link below:
Book Tour at Survivor Jane's  Check out the Book Tour over at Survivor Jane's site.  I've already done one review, and plan to do another one soon!
Now for the links…
How to be a Prepper…But Not One of Those Crazy Ones
Practically Free Egg Carton Dryer Lint Firestarters
Hands-Only CPR and When to Add the Breathing
5 Lessons on Self-Reliance at The Pathfinder School
I want Christmas to be debt-free
21 Survival Uses For Dental Floss
Take care and have a great week everyone!
© Apartment Prepper 2014