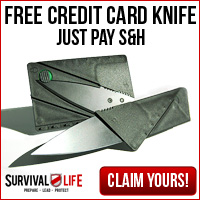 This post is by Bernie Carr, apartmentprepper.com
Please welcome our new sponsor, Survival Life.  Yes, they are the folks who offer the Free Credit Card Knife, with just a small fee ($2.95) for shipping and handling.  This handy little tool fits in your pocket, wallet purse, bug-out bag; why not keep one in several places so you can easily reach for a knife when you need it.
Features
Ultra Slim – Folds to the size of a credit card, 2 mm THIN! (The same size as your standard credit card and 1/10th the thickness of your standard utility knife!)
Quick and Simple Conversion – In just seconds, this tool transforms from an unassuming card in your wallet into a fully functional knife.
Surgical Steel Blade – Stainless steel construction for durable, rust-free sharpness.
Protective Hand Guard – Helps you get a grip and prevents the blade from slipping.
Built-In Safety Sheath – This prevents any accidents caused by an open blade in your pocket or pack, and even prevents the blade from becoming blunted during everyday carry.
Snap-Open, Waterproof Locking Mechanism – Easier to open than ordinary penknives, and no metal hinges that rust.
UNADVERTISED BONUS - Complete Your Order for the
"Credit Card Knife" Now and Get the "Ultimate Every Day
Carry Kit" Bonus Guide Absolutely FREE!
I think the credit card knife is a neat little tool, and the price is right.  I am ordering four myself.  Go check them out!
 Update on 2/13/2014:  Checked with Survival Knife to find out how long it normally takes to get an order, and how to contact them if there is an issue:  It takes 12-15 business days typically.   For any issues, you may contact the support team at support@survivallife.com or by phone 512-366-3332.