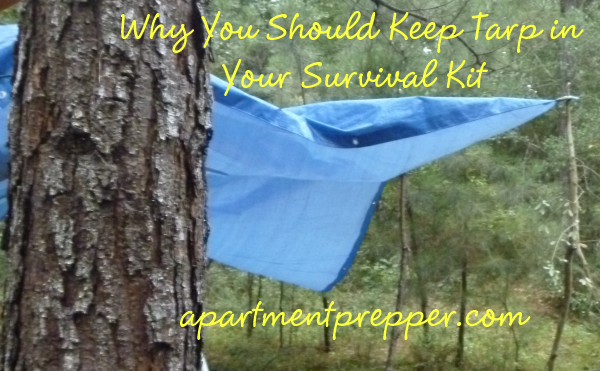 A few weeks ago, we took a day trip to a wilderness area for a picnic.  There was no rain in the forecast that day, and there were no clouds in the sky when we set out.  After an hour's drive, we arrived and scoped out a spot by some trees.  A couple of hours later, the clouds started coming in.  Pretty soon the sky was dark and you could just feel a slight cool down in the temperature, which signifies rain.  The wind came in and we knew we were about to have a downpour.  We didn't want to leave just yet, so Mr. Apt Prepper rigged up a tarp into a makeshift shelter.  Paracord came in handy for tie-ups.
It was not a very attractive set-up but it kept us from getting drenched.  The rain lasted for about 45 minutes then the sun came out.
I was glad we had the tarp and paracord to build a makeshift shelter.  I have written about paracord before, but not about tarp.
Mutiple uses for tarp:
Barrier under a tent floor to protect you from sharp rocks or critters
Blanket to keep warm
Picnic blanket
Use as a hammock
Improvise a stretcher to carry an injured person
Use as a surface to field dress game
Make a shelter to protect from rain or to get some shade
Protect your car's seats from messes
As a wrapping for stuff
Assemble into a backpack with paracord straps
As a covering for items carried on top of your car or truck
For camouflage if it is has the right colors
Make a sail
Catch rainwater:  dig a hole in the ground, line it with tarp and collect water.  It can also be used to direct the flow of water into a container
Protect your floor while doing a paint job
Use as a way to signal – if you are lost somewhere, find an area to spread out the tarp so it can be seen from above.
Makeshift shower curtain
Privacy screen for an outdoor toilet
Make an indoor fort for kids to entertain themselves during a power outage
Covering for windows
Keep some tarp, along with paracord and some duct tape in your car survival kit.  While you're at it, might as well keep one at home and in your bug out bag.