This post is by Bernie Carr, apartmentprepper.com
I never knew flowers were edible until my mother in law told me about edible zucchini flowers and hibiscus flower tea. At first I thought it would be gross to eat a flower, but now that I am interested in self sufficiency skills, it actually makes sense. I thought it would be a good skill to learn how to make tea from dried flowers. I think it's great to be able to make tea from unconventional sources, such as pine needle tea. Tea can be comforting when served warm, or refreshing when served cold.
What is hibiscus?
Hibiscus is a flowering plant usually found in warm or tropical climates.  I've seen a lot of these plants in Texas and other warm areas such as Southern California and Hawaii.  I am sure you will recognize the flower: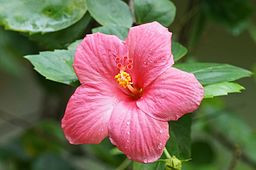 Health Benefits of Hibiscus Tea
Rich in vitamin C
Contains antioxidants
Promotes healthy blood pressure that is within a normal range
Natural diuretic
Note:  If you are pregnant or nursing, you must avoid hibiscus tea. 
Ingredients:
1 cup dried hibiscus flowers (Available at Mediterranean grocery stores; I ordered Davidson's Organic hibiscus from Amazon)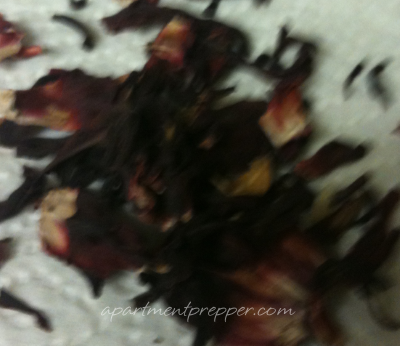 12 cups of water
1 1/2 cups of sugar
You will also need: 2 large pots, colander
Method 1:
In a large pot pour 12 cups of water. Add a cup of dried hibiscus flowers and soak overnight.
The next morning you will see that the water has turned red.
Strain the liquid into another pot. Add 1 1/2 cups sugar (more or less according to taste) and stir well. Refrigerate and serve over ice.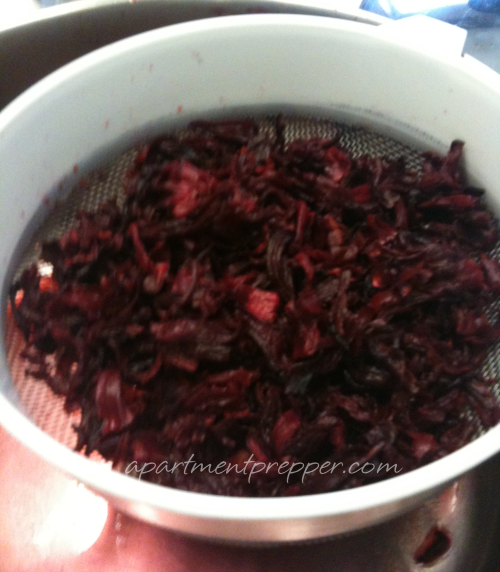 The resulting tea had a tart, tangy taste, similar to cranberry juice. It is refreshing on a hot day.
Method 2:
If you don't want to do the overnight soaking method, you can also brew it like tea.
Set the water to boil and remove from heat. Add the dried flowers and let the mixture steep for 15 minutes. Strain out the flowers and add the sugar. Serve cold.
Whether you soak the flowers or steep in hot water, the result is the same. Hibiscus tea is also sold in the herbal tea section of the supermarket, but I found that the home made version is actually more flavorful.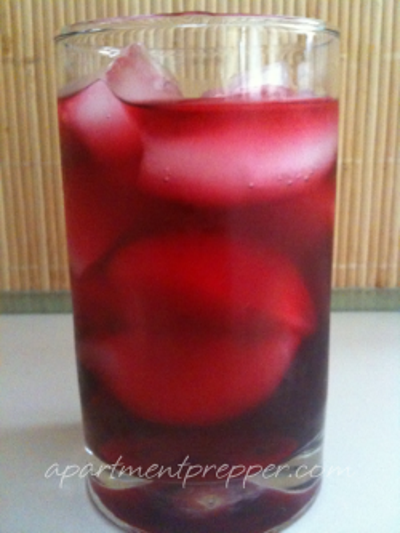 © Apartment Prepper 2017