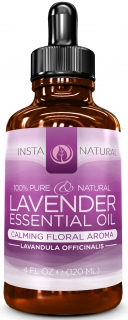 I received review samples of Insta Natural Lavender Essential Oil and Peppermint Essential oil.
The first thing I noticed when I received the packages was the fragrance emanating from the boxes.  At first I thought the bottles may have leaked but upon close inspection, I found they were tightly packaged in plastic bubble wrap and there were no leaks at all.  These oils are just very concentrated and pure.
I tried the Lavender essential oil for making a sea salt scrub.  I mixed a cup of sea salt, coconut oil and __ drops of the lavender oil.  It smelled lovely!  The scent is very clean and relaxing.  I should point out this oil is for external use only.


I then tried the Insta Natural Peppermint Essential Oil for making my deodorant spray.  The scent is very potent therefore you only need to use very little.  At 4 oz., this bottle will go a long way.  Again, this is for external use only.  I would use these oils for making personal care products such as salves, sprays or scrubs.  All in all these oils are a good value for the cost.
Disclosure: This is a professional review site that sometimes receives free merchandise from the companies whose products we review and recommend. We are independently owned and the opinions expressed here are our own. Apartmentprepper.com is a participant in the Amazon Services LLC Associates Program, an affiliate advertising program designed to provide a means for sites to earn advertising fees by advertising and linking to Amazon.com