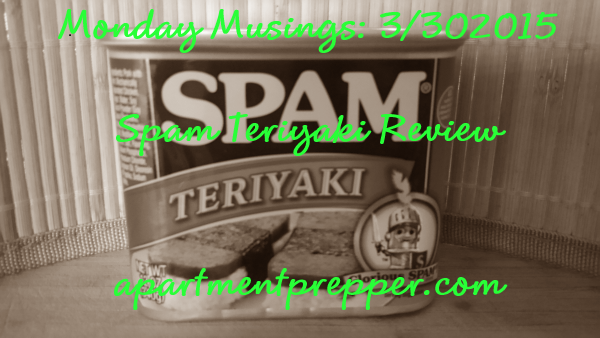 This post is by Bernie Carr, apartmentprepper.com
Welcome to another Monday Musings, where we share interesting links about all things preparedness, as well as updates on the blog.
First the blog updates…
Can you believe March is almost over?  I'm already planning the April reviews and giveaways for the blog.
Spam Teriyaki Review  Spam is a great addition to the survival pantry, and I am quite fond of it for regular use.  I like the plain one the best, but also enjoy the other flavors as well – Bacon and Jalapeno.  I recently picked up a couple of new flavors:  Teriyaki and Chorizo.  We tried the Teriyaki one recently.  The short review…  not a fan.  It had a really dark color, which looked burnt by the time I cooked it thin sliced and crisp the way the family likes; it also had an artificial aftertaste which was a bit too much.  I still like Spam overall, just not the Teriyaki flavored ones.   I will let you know how the Chorizo one turns out.
Making my own sprays and moisturizers This week I'll be whipping up my batches of personal care items instead of buying them:  moisturizer, deodorizing spray and may try making a scrub as well.   I have these two new bottles of peppermint and lavender from Insta Natural that I am going to try out.  As always, I will let you know how they turn out.  Having essential oils on hand gives you to freedom to make so many things that were previously store bought.
Now for the links…
The Price of Hyper-Cleanliness
37 Prepper Uses for Trash Bags
How to Plan Meals When Money is Tight
The Day and the Hour Are Unknown…But…
7 Survival Ideas You Never Thought About
12 Ways to Treat Indigestion – Naturally
Take care and have a great week everyone!
© Apartment Prepper 2015