This post is by Bernie Carr, apartmentprepper.com
Food prices are expected to rise this coming year.  Major food corporations have already announced they are raising prices, according Fox Business.  The USDA has also predicted a larger hike in food prices for 2019.
Not everyone can readily increase their food budget.  It likely won't happen all at once.  But if you start preparing now, your budget won't suffer so much.
Tips to help you cope with higher food prices
Buy in bulk
Having an emergency pantry is a good hedge against higher food prices.  You slowly build your stockpile by buying in bulk and repackaging foods for long term storage so they last for a long time.  Buying in bulk provides you with lower prices overall.  You can split your purchases with someone and share the savings.
First in – first out
Use the "first in first out" system in using your stored food.  To be successful, you must note the date in everything you store.  This way you don't let expiration dates get too far out.  I know, I know – expiration dates do not always reflect the food's usability, but there is a certain point where the quality will start to degrade.
Use your freezer
If you make large portions, store the rest of the food in your freezer, and save it for another day.  Again, make a note of the date, so the food does not get freezer burned by the time you get to it.  Repackage meats in smaller portions using a Food Saver or vacuum sealer.
Grow a garden
You don't need a lot of room.  Even a small windowsill with herbs growing in pots will help you save some money.
Learn to cook from scratch
All you need is a basic cookbook.  Try making one recipe a month if you are just starting out.  You'll be using healthy ingredients without all the additives from convenience foods, and you'll be saving money as well.
Plan a menu
Avoid shopping on the fly when you are rushed or tired.  Make a weekly menu, list the ingredients and buy according to what you have planned.
Avoid waste
According to a study funded by the U.S. Department of Agriculture, the average American wastes around a pound of food a day.    The most wasted food is produce – uneaten fruits and vegetables end up in landfills.   Dairy and beef also made it to the top of the list.
Avoid waste by buying and cooking appropriate amounts, and don't overestimate what you can use up in a week.
Learn to preserve food
All the prepping skills such as canning, dehydrating or pickling that help preserve food will help you save money on your food budget.
Using a combination of the these tips will help you cope with higher food prices this year.  Please share your favorite food savings tips!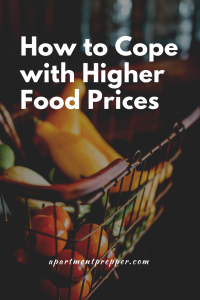 About the author:
Bernie Carr is the founder of Apartment Prepper. She has written several books including the best-selling Prepper's Pocket Guide, Jake and Miller's Big Adventure, The Penny-Pinching Prepper and How to Prepare for Most Emergencies on a $50 a Month Budget. Her work appears in sites such as the Allstate Blog and Clark.com, as well as print magazines such as Backwoods Survival Guide and Prepper Survival Guide. She has been featured in national publications such as Fox Business and Popular Mechanics. Learn more about Bernie here.