This post is by Bernie Carr, apartmentprepper.com
Yesterday, thousands of people in Maui were asked to evacuate as 3,000 acres burned. The fire was fueled by dry brush.
According to the Maui News,
"Power outages, along with internet, cellphone and landline service interruptions, occurred during the day due to the fire. Backed-up traffic, closures and blinding clouds of smoke impacted roadways."
Fortunately, the fire is now nearly contained.
Even paradise in not immune to wildfires; this is a reminder that if you live in an area that experiences wildfires, it is best to be prepared. My family and I have lived in many areas that are prone to wildfires so this is something we are always vigilant about.  Not too long ago, my brother and his family had to leave their home within 15 minutes of an evacuation announcement.
Below is a FEMA map showing areas in the country that have the threat of wildfires: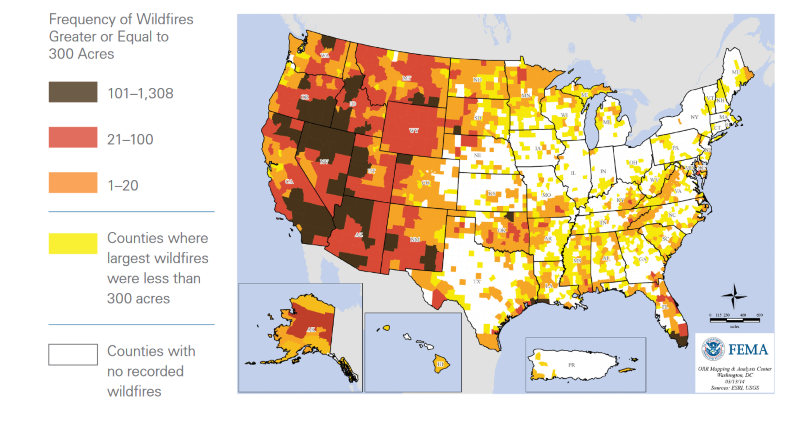 Know your threat level
Though the threat is more common in the west side of the country, wild fires can happen anywhere.  The can start from natural causes such as lightning, or can be man-made cigarettes, unattended campfires, fireworks or arson.  The likelihood of a wildfire is greatest during periods of low rainfall and exacerbated by dry vegetation which can cause fires to spread more easily. High winds also cause fires to spread over a wide area.
Fire weather watches and warnings
Just as they do for other natural threats such as hurricanes and tornadoes, the National Weather Service (NWS) issues watches and warnings whenever the threat of wildfires is high due to high heat, winds and low humidity.
The NWS announces a fire weather watch when when potentially dangerous fire weather conditions are possible over the next 12 to 72 hours.
The NWS issues a fire weather warning (also known as a red flag) when a danger of fire exists and weather patterns that support wildfires are either in place or expected to occur within 24 hours.
A watch may be issued before a warning, but sometimes, the warning may be the only notice.
You should also be aware of the National Fire Danger Rating System. This is the system used by many national forests and communities.
Be prepared to evacuate
Just as I recommend for hurricanes and other disasters, build an evacuation kit that includes your important documents, emergency supplies, valuables etc. Know what you will grab first in case you receive a mandatory evacuation order.
Plan an evacuation route
Learn various ways to evacuate your building as well as your area. You should have alternate routes planned in case the main roads are too congested or blocked by fire.
Keep your vehicle maintained with at least a half a tank of gas on a regular basis.
It's a good idea to keep a car emergency kit.
If you have family members in the area who don't have transportation or unable to drive, make a plan on who will pick them up in case of an emergency evacuation.
Plan in advance where you will evacuate – it can be friends or relatives homes, hotel in another city. Know the location of emergency shelters in your area. Find your local shelter or search for your zip code here.
Get insurance
Get renters or homeowners insurance to protect yourself in the event of fire.  Here is more information on apartment insurance.
Practice fire safety
Practice fire safety at all times regardless of whether a threat of wildfires exists in your area.
Keep a fire extinguisher within easy reach in your kitchen and bedrooms and learn how to use it.
Don't put off getting prepared for a wildfire. If it never happens, then that's great, but you'll be glad you got ready in case one does occur.
© Apartment Prepper 2019
If you found value in the article, please help us keep this site free by supporting Apartment Prepper on Patreon. Click here: https://www.patreon.com/apartmentprepper. No worries if you are not able to, I'll still keep writing!