This post is by Bernie Carr, apartmentprepper.com
Welcome to another Monday Musings, where we share interesting links as well as updates on the blog and preps.
First the blog updates:
Encore interview   I have an encore interview with our friend Gaye over at Backdoor Survival.  Check it out here.  Don't forget to submit your entry.
Prepared Bloggers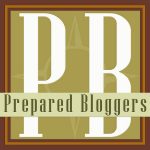 Just a quick reminder to check out this wonderful group I belong to:  Prepared Bloggers for lots of great preparedness and self-sufficiency articles.
Thoughts on giveaways
As long time readers know, I have been doing giveaways on this blog for some time.  Sometimes they are sponsors, sometimes not, and sometimes I just team up with other bloggers to do them.  There have been some giveaways that have disappointing results, and I wonder why very few responded; other times, we have enthusiastic responses.
It is frustrating when a winner is chosen and they do not respond within a timely manner.  Don't they check their emails?   The rules state the winner of the drawing must respond within 48 hours or another winner is chosen so we do.
I still do them anyway, and many readers have left positive comments about them.
Why do I like them?
I do them for the simple reason that a giveaway gave me a great start when I began my own preparedness journey.   I won the Cansolidator from Modern Survival Online.  I never won anything before and was so excited to win.  I did a review of the item and it helped me organize my small pantry.
Who won the Crafting with Paracord Giveaway?
Gary won the giveaway for Crafting with Paracord.
Now for the links…
18 Signs That The Global Economic Crisis Is Accelerating As We Enter The Last Half Of 2014
Fear and Rumors Hinder Containment of Ebola Outbreak
Is this wise? Controversial scientist recreates pandemic flu virus that killed 500,000 people… except it's WORSE
Why It's Possible to Drown in a Dry Parking Lot
Prepping in an Apartment with an Eye to the Future
How Fast Food Providers Beat Inflation – Add Wood Pulp To Burgers
30 Everyday Products You Can Make Instead of Buying at Walmart

Source: Fix.com
Take care and have a great week everyone!
© Apartment Prepper 2014
Show young kids that being prepared can be fun!
Please click here to vote for me at Top Prepper Websites!