This post is by Bernie Carr, apartmentprepper.com
As I write this, the stock market has just experienced its largest sell-off in history.   The negative sentiment was echoed around the world, and today the market is in for a wild ride, according to market analysts.  The experts are saying it due to worries about rising interest rates, inflation, and should stabilize.  People can't help but feel jittery.   Though there is nothing we can do about the markets, we can focus on things we can control:  our own finances.  Instead of fretting, why not take some simple steps now to "recession-proof" your finances?
Cut down on expenses.   Even if you think you've already cut down, check again. 
If you have funds in the stock market, review your asset allocation and consult your financial advisor on the best mix of investments for your personal situation.
Stop getting into more debt, and pay down your balances.
Pick up some new skills to help you save money.  YouTube is a great resource to learn.
If you are employed, make an extra effort to be noticed as a valuable worker.
Learn some new skills that would make you more marketable.  OR, learn some new skills you can use to have a mini side business.
Save money and build up your emergency fund.
Start your stockpile of food, water, and essential supplies.  Include special dietary needs and pet foods as well.  Don't neglect comfort foods like chocolate, wine or beer (if you like these); they are good for morale.
Start a garden and grow vegetables, herbs that your family will use.
Brainstorm on ways you can raise funds to build savings or increase your income:  get together hold a neighborhood garage sale, sell stuff on E-bay or Craigslist, use your skills or hobbies to make extra cash.
Take care of your health; get your health and dental check-ups, fill your prescriptions.
If you are new to frugal living, there are a lot of resources available:  Go to the library and check out books in the personal finance or thrift section. Or, if you feel you have to start right this minute, head over to Amazon and get Donna Freedman's Your Playbook for Tough Times (only $7.99 on Kindle), the classic Tightwad Gazette and subscribe to Daisy Luther's monthly Cheapskate Guide to the Galaxy.
For more tips on prepping on a small budget, read my latest book: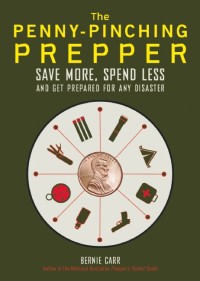 If you plan well, you will weather any storm that comes your way.
© Apartment Prepper 2018
Try Prime for free