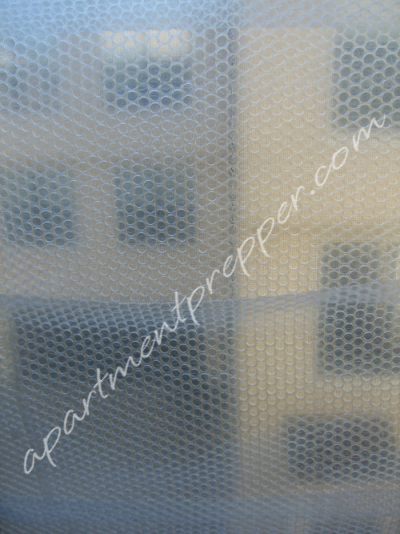 As I write this, it is 35 degrees outside, and temperatures are expected to fall even more later.  There are even signs at the entrance to our building to keep faucets at a trickle at night, to keep pipes from freezing.  For Houston, several days of 35 degrees or below is cold; not much compared to snow bound states, but cold for us, who are used to higher temperatures.
Our apartment windows are not the most protective windows around.  They are single paned aluminum windows that let in the frigid air.  You can really feel the cold blast as you get closer to the windows.  Upon hearing that freezing weather was coming, we decided we had to figure out a way to prepare for the event.   Being in an apartment, there is not a lot of improvement you can really do.  And we really did not want to keep raising the heat inside the apartment to avoid a huge electric bill.  So we did some research on ways to improve our window insulation without doing major installation.  We also wanted something inexpensive, quick to install and easy to remove after the weather improves.
Option 1:  Install window films.
Because we rent, we cannot do anything that involves major alterations, and we want to make sure we get our security deposit back if we move.  Window films are hard to remove, and after pricing them out, we found that window films were also far above the budget.
Option 2:  Plastic Trash Bags
On the opposite side of expensive, some people use plastic trash bags to line the cracks and the windows.  Sounds like it can work, but that would be too unsightly.  It is our windows after all, and I don't think I want to look at plastic trash bags for several days.
Option 3:  Bubble Wrap
We opted for the middle ground:  bubble wrap insulation.  It is temporary but not so ugly.  Please keep in mind this works because there's trapped air between the bubble wrap and the window.  If the window is leaking around the frame, this will not work and the window would need caulking instead.
If you are planning to do a project like this, please research the various options carefully.  I am not an expert in insulation or window reinforcements, so your results may vary.  You may find something else that works better in your situation.  Just sharing what worked for us.
Here is how we did it:
We went to the home improvement store and bought several rolls of bubble wrap.  We spent about $28 total for 2 large rolls of bubble wrap and a couple more dollars for painters tape.  Upon returning home, we raised the blinds and started lining the windows with bubble wrap.  We then taped the bubble wrap to the window sill with the painters tape.  We lined each window of the bedrooms with the bubble wrap, making sure the drafty crack between the windows and window sills were covered.
The result was great!  You can really tell the difference in the room temperature.  The cold air stays out, and you can no longer feel the temperature drop and you approach the windows.  From the outside, the bubble wrap does not look obvious so the apartment management won't notice anything odd.  As you can see from the photo above, the downside is, you can't see the outside too clearly.   This is only temporary though.  In a few weeks, normal warm temperatures should come back, and the bubble wrap insulation will come off.  Then I can recycle the bubble wrap as packing material.
Here are a few other tips for staying warm:
Space heater.  A small space heater may help, if you set it up in the room you are in.  If you are worried about heating when there is no power, a good possible choice is a propane heater such as Mr. Heater.  However there are precautions that need to be taken when setting it up.  I have not tried it personally, so I can't tell you how well it works, but see this review from TacticalIntelligence.net.
Dress in layers.  When it's this cold, and I have to go outside, I were a tank top, a T-shirt, a turtleneck and a jacket.  Am I bulky?  You betcha!  But it works and I don't like to be cold so I put up with it.
Rearrange your sheets.    Cotton sheets are meant to keep you cool, but that is not what you need in a cold snap.  Place the fleece or micro fiber blanket closest to you.  It really works.  Flannel sheets work just as well.
Layer on the blankets.  We place several blankets in addition to the comforter on all the beds in the house.
Drink warm liquids.   Sip some herb tea and warm up.
Rice heating pad.   See The Frugal Heating Pad over at Surviving and Thriving If I make one of these I will post about it.
Run electric appliances during the day.  Run the dishwasher, cook and bake during the day.  They all help warm up the house.
Each winter, I receive emails from apartment dwellers asking for ideas on warming up their space during a cold snap.  Hopefully the tips above help out.  Stay warm!